contact
Office hours are 8am - 5pm Monday through Friday.
Annual Giving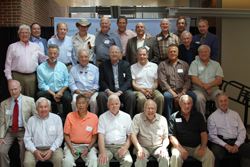 Your philanthropic support greatly impacts the School of Dentistry's ability to accomplish our mission to advance oral health and improve lives. Without the generosity of our community, we would not be able to serve thousands of patients and educate hundreds of students each year. Your gift will help us train our students to become exceptional practitioners, support our researchers in their quest for new knowledge, and furnish our clinics with the most advanced equipment and technology to provide the finest patient care.
You may designate your gift to what you feel is your strongest affinity. Donations to our unrestricted fund the "Deans Innovation Fund" enable us to direct resources where they are most immediately needed. You may also designate your gift to a specific department, scholarship fund or to support patient care.
To make a gift online, please click here.
If you would like to make a gift before year's end, please review the following document: Year-End Gift Instructions.
To mail your gift, please make your check payable to the University of Maryland Baltimore Foundation, Inc. (UMBF, INC.) and send to:
University of Maryland School of Dentistry
Attn: Office of Institutional Advancement
650 West Baltimore Street, Suite 6207
Baltimore, MD 21201
Thank you in advance for supporting the School of Dentistry's Annual Fund.