About the University of Maryland School of Dentistry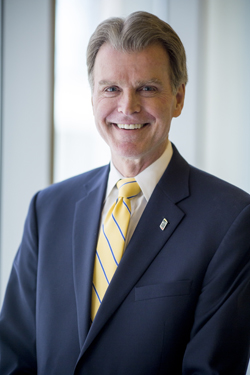 Established as the Baltimore College of Dental Surgery in 1840, the University of Maryland School of Dentistry (UMSOD) is the world's first dental college. It has successfully upheld the aspirations of its founders, Drs. Horace H. Hayden and Chapin A. Harris. The school of dentistry is an exciting place to be, a place with a unique history and tradition that honors our profession, yet eagerly embraces the future.
We know that oral health is inextricably linked to overall wellness. Increases in the prevalence of obesity and diabetes parallel increases in overall health burden. Chronic destructive periodontal disease, which affects nearly 50 percent of the adults in the United States, is associated with these systemic chronic conditions and others, including rheumatoid arthritis.
Together, as top-tier educators, practitioners, clinicians, researchers, and alumni of the first dental college in the world, we are uniquely positioned to improve, shape, and advance our profession and the health care landscape through comprehensive education, research and service programs.
UMSOD offers exceptional educational programs for prospective members of the oral health professions. We were the first school in the world to offer a science-based curriculum in dentistry and is committed to maintaining its position as a leader in oral health education. The student body is one of the most diverse in the nation and we have more than 7000 living graduates working in oral health professions.
The school of dentistry is Maryland's predominant provider of comprehensive and emergency oral health services for individuals of all ages, including the underserved and disadvantaged. Each year, nearly 27,000 people are served through more than 104,000 patient visits. We are the largest provider of oral health care to persons living with HIV and Medicaid-eligible children in Maryland. In addition, working with our partners at Access Carroll in Westminster, Monocacy Health Partners in Frederick, and West Cecil Health Center in Perryville, we have established new clinics that expand our ability to reach patients—and add enduring value to our students' educations through hands-on experience.
Through research innovation, creativity, and productive partnerships, our faculty members and students are developing novel approaches to health problems from chronic pain to infectious disease. Our top researchers are at the cusp of reaching breakthrough discoveries toward fighting public health threats such as sepsis, staph infections, and chlamydia. In addition, our faculty have won some of the highest research award honors from organizations such as the International Association for Dental Research (IADR) and the American Academy of Pediatric Dentistry (AAPD).
Through our public service programs and initiatives, such as Mission of Mercy, Maryland Day, Maryland Special Olympics, and Sealant Saturdays, we have offered expanded access to oral health care, as well as invaluable clinical experiences for our students. During the course of their education at UMSOD, our students on average donate more than 7500 hours of community service in addition to their nearly 5000 hours of required training.
As we enter into an era where dentistry becomes more integral to general health and optimal quality of life, we will continue to build on our strengths while applying our vision, knowledge, imagination, and expertise to charting our future.