About the Faculty Practice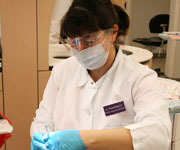 The University of Maryland's Faculty Practice Dental Department offers you quality dental care in an educational environment. Members of the practice are full-time faculty at the school of dentistry. Our providers are leaders in their field and collectively offer extensive knowledge in every facet of oral health care. Faculty Practice offers a unique dental care setting. Housed in a state-of-the-art building, the Faculty Practice offers the latest in dental technology provided by quality dentists. Faculty from each speciality are members of U.M.FDSP-Faculty Clinic, giving you the benefit of comprehensive services in one location. We believe in the University Core Values; knowledge, excellence, leadership, civility, diversity, collaboration and accountability.
All of our providers see patients by scheduled appointment only. When calling for an appointment, our team of dental coordinators make every effort to accommodate your scheduling needs. We offer early morning and evening appointments. Associates of Faculty Practice understand the importance of quality care and strive to provide that care at a resonable cost to you. Please call 410-706-7961 to speak with Jamie, Rhonnie, Michele or Debbie for an appointment today.
---
GENERAL DENTISTRY 410-706-7961
Services include a range of comprehensive preventative, diagnostic and restorative care
ENDODONTICS 410-706-7961
Services include root canals, retreatment of root canals and surgical treatment
PERIODONTOLOGY 410-706-7961
Services include prevention, diagnosis, and treatment of gum disease, surgical placement and long term maintenance of dental implants
PROSTHODONTICS 410-706-7961
Services include crowns and bridges, partial and complete dentures, and implant restorations
ORTHODONTICS 410-706-7961
Services include a full range of comprehensive orthodontics (braces) for children and adults
PEDIATRIC DENTISTRY 410-706-7961
Services include a range of comprehensive preventative, diagnostic and restorative care for children
RADIOLOGY 410-706-7961
Dental cone beam CT imaging, and referral-based interpretation of cone beam CT for private practitioners. Radiology CBCT Referral Form