History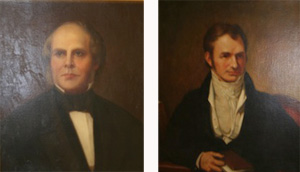 Formal education to prepare students for the practice of dentistry originated in 1840 when the Baltimore College of Dental Surgery was chartered by the General Assembly of Maryland. This represented the culmination of the efforts of Dr. Horace H. Hayden and Dr. Chapin A. Harris, two dental practitioners who recognized the need for systematic formal education as the foundation for a scientific dental profession. Together they played a major role in establishing and promoting formal dental education, and in the development of dentistry as a profession.
BCDS served as a prototype for dental schools gradually established in other American cities and originated the pattern of modern dental education, with equal emphasis on sound knowledge of general medicine and development of the skills of dentistry. Through the prominent role of its faculty and graduates and their contributions to dental and medical progress, BCDS has exerted a remarkable influence on professional dentistry.
The present dental school evolved through a series of consolidations involving the Baltimore College of Dental Surgery, founded in 1840; Maryland Dental College, founded in 1873; the Dental Department of the University of Maryland, founded in1882; and the Dental Department of the Baltimore Medical College, founded in 1895. The final consolidation took place in 1923, when BCDS and the Dental Department of the University of Maryland were combined to create a distinct college of the university under state supervision and control.
BCDS has preserved artifacts from dentistry's past in its own collection, which is on permanent loan to the Dr. Samuel D. Harris National Museum of Dentistry.