Dental Hygiene Program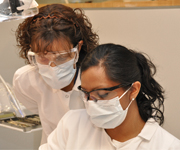 The University of Maryland School of Dentistry, Division of Dental Hygiene offers undergraduate programs which lead to the Bachelor of Science degree. Two types of students are admitted to this program: 1) Bachelor of Science or Baccalaureate degree seeking students who have completed two years of pre-professional course work; and 2) Degree Completion students who are Registered Dental Hygienists (RDHs) and are graduates of associate degree or certificate Dental Hygiene programs who wish to complete the course work to obtain the Bachelor of Science degree. 3) Master's in Public Health Program at the UM School of Medicine's Department of Epidemiology and Public Health for BS degree hygienists who wish to earn a master's degree.
The University is proud to announce a partnership between the Dental Hygiene Program and the Master's of Public Health program here at UMB for an accelerated BSDH to MPH program. Students interested in obtaining a master's degree can "jump start" their graduate education while they are still dental hygiene students!
The Dental Hygiene Program at the University of Maryland School of Dentistry combines an outstanding curriculum with the state-of-the-art advantages of the dental school environment. The School of Dentistry has the dual distinction of being the first dental college in the world and a recognized leader in scholarship, research and service. Dental hygiene students and dental students work together to provide patient care and participate in ongoing research and community service programs.
An outstanding clinical education program-featuring patient-centered and student-centered general practices simulates the responsibilities of a dental practice. Dental students and dental hygiene students provide comprehensive patient care under the supervision of clinical faculty. Small class sizes, modern clinical facilities, an innovative curriculum and faculty members who care all characterize the Dental Hygiene Program. As part of an urban medical center campus, the School of Dentistry attracts a diverse patient population. Its downtown Baltimore location makes the school a convenient source of dental care for city residents and those who work nearby. The School of Dentistry logs more than 100,000 patient visits annually and it extends services to many in the community whose needs are great.
The overall goal of the Dental Hygiene Program is to prepare graduates who will become the leaders in the profession of dental hygiene.
Links of Interest