Predoctoral Dental Clinic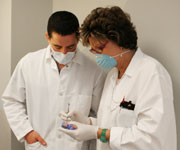 High Quality Dental Services at Significant Savings
University of Maryland's Pre-Doctoral Clinics offer comprehensive dental care. Whatever your dental needs, an entire range of dental care is available:
Fillings
Crowns, bridges, implant restorations
Dentures
Endodontics (root canals)
Esthetic dentistry (basic teeth whitening and bonding services and tooth-colored fillings)
Periodontics (treatment of gum disease)
Oral pathology consultations.
In the Pre-Doctoral Clinics, dental students provide services under the close supervision of experienced faculty dentists. The students conduct a thorough evaluation to diagnose each patient's needs and develop a comprehensive treatment plan before beginning treatment. Appointments at the Pre-Doctoral Clinics take longer than at private dental practices because dental students often work at a slower pace and faculty dentists frequently check the progress of procedures to ensure high quality care.
Many patients use the Pre-Doctoral Clinics because they believe it is worth spending the extra time in this teaching setting so that they can receive high quality care at significantly lower fees than most private practices.
CLINIC ATTENDANCE PROTOCOL
Please be aware of our clinic attendance policy. Treatment may be discontinued for patients who fail to show for two appointments, come late or cancel several appointments. If it is necessary to change a scheduled appointment, please notify your dental student at least 48 hours in advance.
Appointment times are specifically reserved for you. If you must make a change to a scheduled appointment, call the number given to you by your dental student for the General Practice receptionists, if it is during normal working hours. After hours, you may leave a message requesting a necessary schedule change by calling 410-706-7104.
BECOMING A NEW PATIENT (PATIENT ADMISSIONS)
Appointments are available at Monday, Wednesday, and Friday in the morning and afternoon.
You will be asked to arrive at least 30 minutes prior to your scheduled appointment in order to complete all necessary forms.
Appointments are three hours long.
There is a $150 non-refundable deposit to become a new patient at the school. This fee will be applied to any dental care that you have.
The patient admissions appointment will include a detailed medical and dental history, basic exam, and any necessary diagnostic x-rays.
No other dental treatment will be provided at this appointment.
Information gathered at the admissions appointment will be used to determine which program can best provide your dental care.
Please bring the following to your first appointment:
Photo identification as well as any dental and/or medical insurance information
List of current medications and dosages
Payment by cash, check, MasterCard, Visa, Discover credit or debit card
Children must not be left unattended in the clinic reception area and will not be permitted in clinical areas for their own safety and the safety of our patients. If you choose to bring children, please make certain that they have adequate supervision.