contact
Sandra Ringgold
Academic Program Specialist
Biomaterials and Tissue Engineering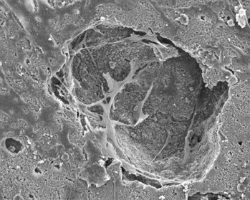 The Biomaterials & Tissue Engineering Division focuses on the development of novel bioactive and resorbable scaffolds and biomimetic and injectable carriers, as well as the use and delivery of stem cells and growth factors for tissue engineering, bone regeneration, and dental and craniofacial repairs. A second important research area of the division is the development of new dental materials and smart nanocomposites for tooth restorations with caries inhibition and controlled release capabilities.
Dr. Xu's multidisciplinary research team uses state-of-the-art stem cell culture and analyses techniques as well as materials engineering and synthesis methods. His team has authored more than 100 original articles in leading journals. Their research has been supported by NIH/NIDCR, the Maryland Stem Cell Fund, and the University of Maryland School of Dentistry.
The Biomaterials & Tissue Engineering Division has many excellent collaborators, including Dr. Laurence C. Chow, Dr. Shozo Takagi and Dr. Limin Sun of the American Dental Association; Dr. Carl G. Simon, Dr. Sheng Lin-Gibson, Dr. Nancy J. Lin, and Dr. Joseph M. Antonucci of the National Institute of Standards and Technology; Prof. David Mooney of Harvard University; Prof. John P. Fisher of the University of Maryland at College Park, and other researchers.