contact
Sandra Ringgold
Academic Program Specialist
Program Goals and Objectives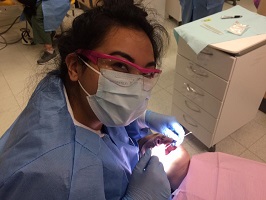 The Dental Hygiene Program
The Dental Hygiene Program derives its purposes and functions, which encompass teaching, research and service, from the philosophy, policies and strategic plan and vision of the School of Dentistry, the University of Maryland, Baltimore and the University System of Maryland.
The Program offers an entry-level 2+2 degree program, a baccalaureate degree completion program and a variety of continuing education courses. Pre-requisite coursework must be from a U.S. regionally accredited institution. A master's program is available through the Department of Epidemiology and Public Health at the University of Maryland School of Medicine (UMSOM). An accelerated degree (BSDH/MPH) program is available for students enrolled in the traditional baccalaureate and degree completion programs.
The UMSOM Department of Epidemiology and Public Health and School of Dentistry have teamed up so students can earn their BS in dental hygiene and jump-start into the master of public health program if they choose. For all of these programs and courses, faculty members are committed to creating an educational environment that facilitates the development of creative, critical thinking, ethical professionals who are capable of realistically assessing their own performance and directing their own professional growth and development during and beyond the educational programs at the University of Maryland. Faculty strive to maintain a quality curriculum that is continually updated to reflect emerging health care trends and future roles in dental hygiene practice.
The Program promotes health for the citizens of Maryland through education and treatment, thereby enhancing the academic and clinical excellence of UMB. The goals, objectives and competency statements that follow provide direction to the faculty and students so that the program and its graduates will be able to make positive contributions to the delivery of oral health care services to the public.
The Dental Hygiene Program strives to:
A. Offer high quality evidence based educational programs that will enhance the awareness, appreciation and utilization of dental hygienists in health care, research, educational and community settings.
B. Prepare graduates who provide and further access to high quality, evidence-based, patient-centered dental hygiene care and contribute to the overall health of Marylanders.
C. Serve as resources to health professionals in the region through consultation and conducting innovative continuing education programs.
D. Conduct innovative research that will contribute to the body of knowledge pertinent to dental hygiene education and practice in clinical and community settings.
E. Encourage inter-professional collaboration in research and education to focus on the overall well-being of the patient.
F. Prepare graduates who will be leaders in the profession of dental hygiene, are committed to lifelong learning and who promote the values and goals of the profession.
updated 6/22/17