contact
Sandra Ringgold
Academic Program Specialist
About the Baccalaureate Program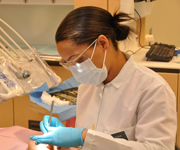 "Higher Level-Broader Perspective"
Our Baccalaureate (Bachelor of Science) Dental Hygiene program graduates students to earn their BS in Dental Hygiene; it is the ONLY such Bachelor of Science program in the State of Maryland. Come experience a true four-year Bachelor's degree in Dental Hygiene!
The Dental Hygiene Baccalaureate (BS) program is housed at the University of Maryland School of Dentistry, a state of the art teaching facility where our students learn alongside dental students and have the benefit of being on a professional campus, the UMB campus. Students do 57 pre-requisite credits (freshman and sophomore years of college) at an American regionally accredited college or university and earn their 63 credits of core dental hygiene course work (junior and senior years) here at UMB, thus we are a 2+2 program. Our students do classwork online and in the classroom (hybrid), and clinical training at the dental school and beyond. Our program provides online components along with classroom attendance, live clinics and live lab sessions. Students who are self-guided, self-motivated and regimented in their studies will make great candidates.
The only Baccalaureate program in Maryland, the one offered at the University of Maryland School of Dentistry includes direct patient care within the dental school under dental hygiene faculty plus the opportunity to experience other aspects of dental care called "blocks." Our students experience diverse patient populations such as pediatric, special needs, periodontics, advanced general dentistry, oral surgery and many more. This gives the hygiene student a well-rounded base. Furthermore, students attend service learning outside the dental school, serving patients in the public health arena throughout the state of Maryland, thus answering the call of the University of Maryland School of Dentistry's mission: to serve all Marylanders.
We provide a full time program: 2+2 program where 65 credits of core dental hygiene coursework are completed over a two-year period for a total of 120 credits to earn a Bachelor of Science degree.
The University is proud to announce a partnership between the Dental Hygiene program and the Master of Public Health program here at UMB for an accelerated degree program. Students interested in earning a Master's degree can "jump start" their graduate training while still in the dental hygiene program here at the UMSOD!
Be part of a true Baccalaureate experience and beyond, an exciting program that will expand your horizons. The University of Maryland Bachelor of Science program: proudly educating our future leaders and professionals for over 40 years. Be part of a program of "Higher Level, and Broader Perspective."
Director, Dental Hygiene Program
Associate Professor