contact
Sandra Ringgold
Academic Program Specialist
Sheryl Syme, RDH, MS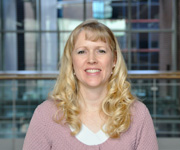 Sheryl Syme, RDH, MS obtained her B.S. degree in dental hygiene from the University of Maryland School of Dentistry and her M.S. degree from the UMB Graduate School with an area of concentration in community/institutional health with focus in geriatrics. Ms. Syme is an associate professor and director of dental hygiene curriculum management and director of the B.S. Degree Completion Dental Hygiene Program. She has been in dental hygiene education for 22 years.
Prior to her academic appointments, Ms. Syme served for 3 years as the dental services coordinator and educator at Deaton Specialty Hospital and Home in Baltimore. She has been teaching at the University of Maryland School of Dentistry for 20 years and, prior to that, she taught for two years at Harrisburg Area Community College. In addition to being course coordinator for several dental hygiene courses at the University of Maryland School of Dentistry, Ms. Syme also teaches in junior and senior clinics and the Special Care & Geriatrics and Plus clinic blocks.
ACCOMPLISHMENTS
2016 Linda DeVore Dental Hygiene Alumnus Award University of Maryland School of Dentistry
Recipient of ADHA Institute of Oral Health Wrigley Community Service Grant 2015-2016
Recipient of DentaQuest Foundation Grant 2016

Participated in an international dental mission for 20th Anniversary Operation Smile Vietnam- provided screening, prevention and dental hygiene treatment services for over 800 school children in Thai Binh

Maryland State Clinical Director for the Special Olympics Special Smiles program.

Director of Education for the Mid-Atlantic P.A.N.D.A. coalition and has presented numerous continuing education courses including a webinar for dental team members on abuse and neglect.

Recipient of the Community Oral Health Hero Award from the Maryland Dental Action Coalition.

Site visitor and curriculum expert for 5 years for the American Dental Association's Commission on Dental Accreditation.

Curriculum expert for 10 years on the Test Construction Committee for the Dental Hygiene National Board Exam.

Editorial review board member for the Journal of Dental Hygiene.

Published articles on oral cancer assessment and behaviors of dental hygienists, clinical dental hygiene practice, special patients, and the use of educational technology in distance education programs.

Member of the Oral Cancer Committee for The Maryland Comprehensive Cancer Control Plan

Served two terms (2005-2008) and (2011-2014) as Chair, Research and Grants Review Committee for the American Dental Hygienists' Association.

Co-wrote Chapter on Abuse and Neglect in the 4th edition of Dental Hygiene Theory and Practice.

Active member of the American Dental Hygienists' Association and the American Dental Education Association.

Past vice-president and secretary of the Maryland Chapter of Sigma Phi Alpha Dental Hygiene Honor Society and life-long member of the Phi Kappa Phi Honor Society.

Received UMB Dental Hygiene Teacher of the Year Awards from Classes of 2001, 2002, 2004 and 2005.
RESUME HIGHLIGHTS
Community Oral Health, Patients with Special Needs
Hospital Dentistry
Dental Hygiene Education and Research
Dental Hygiene Curriculum Expert
Service to Local and National Agencies
COURSES
DHYG 323 Patients with Special Needs
DHYG 414 Educational Program Development
DHYG 417 Community Oral Health
DHYG 418 Degree Completion Practicum I
DHYG 428 Degree Completion Practicum II