Application Guidelines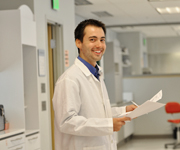 Applicants must apply through the Associated American Dental Schools Application Service (AADSAS). The AADSAS application for admission must be completed and submitted prior to January 1. Because of the rolling basis of the admissions process, applicants are urged to apply much earlier than the application deadline.
At the same time the AADSAS application is submitted, applicants should send a non-refundable application fee in the amount of $90, made payable to the University of Maryland. An Application cannot be processed by the Office of Admissions until the application fee has been received.
The application fee can be paid online, or by check or money order. Application fees should be accompanied by the applicant's name (as it appears on their AADSAS application) and AADSAS number. Mailed application fees should be addressed to:
Office of Admissions University of Maryland School of Dentistry Dean's Suite - 6th Floor South 650 West Baltimore Street - Suite 6410 Baltimore, Maryland 21201
Once applications are processed by the Office of Admissions, they are carefully reviewed. This evaluation includes a review of the academic record, DAT scores, essay, and other information included as part of the AADSAS application. Candidates whose applications meet preliminary screening criteria will be invited to continue with the admissions process and will receive an invitation to complete the University of Maryland supplemental application. Upon receipt of the completed supplemental application, applicants advancing in the admissions process will be invited for an interview with members of the Committee on Dental Recruitment and Admissions. A personal interview does not guarantee admission.