contact
Michelle Howell
Office Manager
Welcome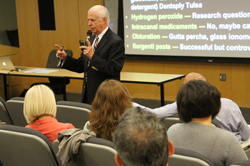 Continuing dental education for dentists and dental hygienists is a core value of the School of Dentistry. This commitment to lifelong learning extends to the oral health professionals in Maryland and the neighboring states in the Mid-Atlantic region. The frequent advancements in science and technology result in a greater need for professional development.
For more information on our continuing education courses or to be added to our mailing list, please call 410-706-2282 or email the Office of Continuing Education at umsodce@umaryland.edu.
Announcements
There are no announcements.
Advanced Programs for Internationally-Trained Dentists ▾

Description: An educational experience that lasts one year and includes patient care observation. These programs are open to any dentist (U.S./International) with a dental degree; topics can be either general dentistry or dental specialties.
Completion of the Continuing Education Program is an educational goal in itself, and in no way insures acceptance to a Postgraduate Residency Program. Although many resources will be provided by the selected Department, this is a Continuing Education program and is not listed on the University of Maryland Registrar's records.
* Note to Internationally-Educated Dentists: These programs WILL NOT prepare dentists to become licensed to practice dentistry in Maryland. If you are interested in practicing dentistry in Maryland, you will need a dental degree from an ADA-accredited dental school in order to be eligible to take the Maryland Dental License examination.
For specific program information click on link below:

Online Course - Proper Pharmacologic Prescribing and Disposal for Dental Practitioners ▾

In partnership with the Maryland State Board of Dental Examiners, the University of Maryland School of Dentistry is offering the continuing education course "Proper Pharmacologic Prescribing and Disposal for the Dental Practitioner", online. This is a two (2) continuing education hour course.
Once you register, you will receive a confirmation by email, within 24 to 48 hours, with further instructions.
Once you have registered, and are sent a confirmation, there will be no refund.