Host-Pathogen Interactions in Chronic Infections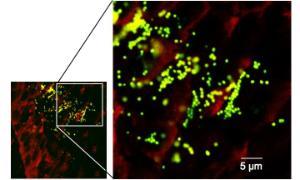 ‌This NIH-NIAID project is elucidating the host response to find out how Staphylococcus aureus is able manipulate the host immune response and avoid clearance to progress from an acute infection to one that is chronic and mediated by biofilms. We are also modulating this ineffective immune response to enable the host to clear staphylococcal infections.
Broad Objective
To characterize host cellular, antibody, and cytokine responses to Staphylococcus aureus biofilm-mediated implant infections, to determine host mechanisms of protection against such infections, and to evaluate the efficacy of immunomodulation through adjuvant therapy in diverting the immune system to more effectively clear such infections.
Hypothesis
S. aureus skews the host CD4+ T helper cell-mediated immune response away from protective Th2/Treg responses to ineffective Th1/Th17 responses. This may permit progression of an early biofilm to a mature biofilm infection that is chronic. Further, adjuvant therapy to redirect the immune response towards a more effective Th2 response will prevent the development of chronic S. aureus implant infection
Specific Aim 1. To develop and evaluate a mouse model of chronic prosthetic implant infection that accurately mimics the properties of a human biofilm-mediated prosthetic implant infection. I will:
a) Determine if this mouse model of prosthetic implant infection is chronic and localized, with an absence of sepsis
b) Determine if this implant infection is resistant to appropriate antimicrobial therapy
c) Evaluate the cellular components of the local immune infiltrate and biofilm architecture during acute and chronic implant infection
Specific Aim 2. To elucidate the host adaptive immune response during acute and chronic S. aureus implant infection using a mouse model of prosthetic implant infection. I will:
a) Measure and evaluate the production of local Th1, Th2, and Th17 cytokines at the implant site during acute and chronic implant infection
b) Determine whether the host preferentially mounts a Th1 or a Th2 CD4+ T cell response by examining the antibody subtypes produced against a S. aureus biofilm-up-regulated protein during acute and chronic implant infection
c) Determine if S. aureus implant infection promotes a detrimental pro-inflammatory immune response through the suppression of FoxP3-expressing regulatory T cells (Tregs)
Specific Aim 3. To determine the mechanisms of protection against biofilm-mediated S. aureus implant infection. I will:
a) Compare disease pathology and outcome of S. aureus implant infection between a Th1- biased (C57BL/6), Th2- biased (BALB/c), and a Th2- deficient mouse strain (STAT6 KO)
b) Elucidate the protective role of antibodies raised again S. aureus in C57BL/6 versus BALB/c mice during S. aureus implant infection
c) Compare disease pathology and outcome of S. aureus implant infection in BALB/c mice after in vivo neutralization of Tregs
d) Determine if immunomodulation to direct the immune response away from pro-inflammatory Th1 and/or Th17immune responses confers protection from chronic S. aureus implant infection