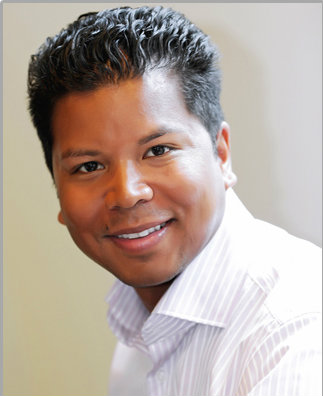 It's hard to imagine how prosthodontist, entrepreneur, and innovator Michael Wright, DDS '99, finds time to sleep, but he says he's passionate about his work. "For me it doesn't feel like work."
On any given day, Wright may be found treating patients at the Dental Care Alliance, a dental support organization; running the Smile Design Studio, the cosmetic dentistry practice he founded; and developing customized magnetic-tethered mouth guards for professional athletes at his second company, The Wright Guard; or finding ways to make protective mouth gear affordable for young athletes.
His passion for and dedication to dentistry seems to be paying off: In 2011, he began developing custom mouth guards for National Football League (NFL) players such as D'Angelo Hall, Vernon Davis, Patrick Willis, Kyle Fuller, and others. Since then, his work has been increasingly in demand, and his company, The Wright Guard, has been featured by media outlets such as USA Today and TMZ Sports.
Trailblazing a path to player safety
Wright Developed his first mouth guard for Vincent Fuller, formerly of the Tennessee Titans, after getting a referral from a mutual acquaintance.
After the prosthodontist designed and handcrafted a mouth guard for Fuller, the defensive back spread the word among his teammates. Soon Wright found himself working with a host of NFL athletes, as well as a few professional boxers, many of whom had suffered multiple injuries to their teeth. Wright worked with them to provide comprehensive dental work first before producing the mouth guards. He even added stylistic flourishes upon request, such as gold foil or diamond studs.
Wright is adamant that proper oral health can help with overall player safety. Dentistry may not be the first profession that comes to mind for treatment and prevention of NFL injuries, yet given the number of spinal, teeth, and jaw ailments that result from collisions on the field, Wright says attention to oral care – particularly mouth guards – can protect players from serious injury.
"One player I worked with - Chris Harrison - had a Temporomandibular Joint (TMJ) Disorder," he says. "I asked him what type of mouth guard he used, and he said he didn't use any. It's not mandatory for the players, so it was like night and day for him after he started using one."
Wright's interest in this subject is personal: Growing up in Washington, D.C. he played football and baseball while attending St. John's College High School, and remains an avid lover of sports. In fact, Harrison was a former high school teammate of his who went on to play for Baltimore Ravens and Detroit Lions.
As a byproduct of getting this comprehensive treatment, many of Wright's clients started taking better care of their oral health. "Tyrod Taylor started using listerine on the sidelines after I worked with him. The importance of oral care resonated with him on and off the field," Wright says.
A rigorous education
As a young man, Wright was interested in medicine, but was attracted to dentistry because of the fast relief it can provide surgical patients. "If they weren't able to smile before, they can now. If they had pain, it was now over," he says.
Wright initially was attracted to the University of Maryland School of Dentistry because of its history as the world's first dental school. The interview process sealed his decision, particularly his interactions with Billie Garner-Brown, former assistant dean at UMSOD, he says. "Billie created a lasting impression. She became like a mother to me. At UMSOD, I felt like I was part of a family."
As a rising UMSOD senior, Wright served in an externship to create dentures for Navajo Indians in Arizona, where he met Carl Driscoll, DMD, director of the prosthodontics residency at UMSOD. Driscoll was impressed with Wright's dedication and passion.
"Dr. Wright's clinical skills became very evident to me in the first few days of the trip," says Driscoll, "by the end of the mission, I knew that I had to recruit him to the PG Prosthodontic Residency. He was that good!"
The prosthodontics residency was demanding, says Wright. His days began at 7:30 a.m. and sometimes didn't end until 3 a.m. By the time residents in other programs would be going home, Wright and his colleagues would be starting lab work. But Wright has no regrets about the rigor of the program because in the end, he says, there was "no case we didn't know how to reconstruct."
Despite the workload, Wright moonlighted on weekends, renting space from Ronald Taylor, DDS '96, and the late Derek E. Brown, DDS '95 in Bowie, MD, and serving patients at his own practice. Brown and Taylor mentored Wright and taught him the business side of dentistry. "Nothing really informs us how to transition to the real world. We have the clinical expertise, but don't necessarily know how to do advertising, manage staff, managing supplies, and setting up the website and an LLC," he says.
In 2002, Wright joined Dental Care Alliance. Over time, however, the desire to provide a more personal experience for his patients grew, and he founded Smile Design Studio in 2009 to offer cosmetic services such as dental implants, smile makeovers, and teeth whitening services. He connected with many of friends and colleagues in Washington D.C. and St. John's to expand his patient base; through these connections, he received the initial referral to Fuller, which ultimately led to the creation of The Wright Guard.
Building a better mouth guard for everyone
Wright's long-term goal is to elevate dentistry's role in ensuring player safety in professional sports overall, particularly mouth guard standards.
"There is no reason in the world that manufacturers should be fabricating a prosthesis for the mouth without any dental knowledge," he says.
Wright's mission, however, doesn't stop at the professional level. After reading or seeing media reports about his mouth guards, children began requesting custom guards inspired by the designs worn by their favorite players. "Then came the news that they couldn't afford the custom versions," he says. "So I decided to design a patent for a more affordable option."
Wright studied child mouth guards and found most of the existing options inadequate. "Ninety-nine percent of the guards the Pee-Wee teams used were subpar: They would dissemble easily and break apart," he says.
After two years of collecting data, Wright started developing a standard mouth guard. His team at The Wright Guard used technology to scan different arches for each age group to fashion more accurate sizes. Wright obtained a United States patent and began mass-producing the guards and selling them online and to mom and pop stores. As a final touch, he leveraged his contacts with NFL players—such as Golden Tate and NaVorro Bowman—to spread the word.
Wright attributes much of his success to his UMSOD education, particularly lessons learned in the lab during his prosthodontics residency. But his former prosthodontics mentor, Driscoll, is not surprised at how things are turning out. "His successes are a surprise to no one who knows him," Driscoll says.