Master of Science in Biomedical Sciences Program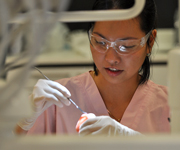 The Master of Science in Biomedical Sciences (BMS-MS) is designed to complement training undertaken by students in the school of dentistry's certificate programs, i.e. dental postgraduate trainees. The BMS-MS prepares dentists for careers in dental education and research. Trainees receive graduate education in the basic sciences, oral biology and dentistry.
Students may select research advisors from several disciplines and topics from many basic science and clinical research areas.
Specialty programs that offer the master's degree in oral biology include:
Endodontics
Prosthodontics
Orthodontics
Pediatric Dentistry
Periodontics
Advanced General Dentistry
Click here for more information about the school of dentistry's postgraduate programs in each of the above specialties.
Application and Admission
Information about the BMS-MS is presented at the July orientation for new postgraduate dental students. To be eligible for the BMS-MS, one must have a professional degree in dentistry and acceptance into one of the specialty certificate programs. In addition, the Graduate School's minimum requirements for admission must be met.