Pain researchers have reason to believe that chronic stress and chronic overlapping pain conditions influence each other, but the larger questions of why and how remain unanswered.
"It's the chicken-and-the-egg issue: whether stress causes pain or vice versa," says Richard J. Traub, PhD, professor and vice-chair of UMSOD's Department of Neural and Pain Sciences. The intersection of chronic pain and stress was the focus of the third annual symposium at the University of Maryland Center to Advance Chronic Pain Research (CACPR). Called "Chronic Overlapping Pain Conditions and Stress," the conference, held November 17 in Baltimore, drew 72 attendees.
Designed to enhance cross-campus collaborative research, the CACPR is led by Joel Greenspan, PhD, professor and chair of UMSOD's Department of Neural and Pain Sciences, and Susan G. Dorsey, PhD, RN, FAAN, professor at the University of Maryland School of Nursing (UMSON).
Greenspan became interested in exploring chronic pain and stress after examining the results of an ongoing Orofacial Pain Prospective Evaluation and Risk Assessment Study (OPPERA), in which respondents reported developing chronic pain conditions after experiencing a spike in stress levels.
"How well one copes with stress is shown to be contributory to overlapping conditions," says Greenspan, who oversaw the survey.
Chronic stress alters your neuro-chemistry in a way that has serious implications for how the body processes pain and could help explain why chronic conditions such as fibromyalgia and irritable bowel syndrome frequently overlap. "In a typical response to acute stress, your body undergoes a 'fight or flight' response and then returns to normal functioning" Traub says. "Chronic stress, for example domestic or sexual abuse or stress from a war zone, overloads your stress response and your physiological and psychological states cannot return to normal. In susceptible individuals this can manifest itself as chronic pain."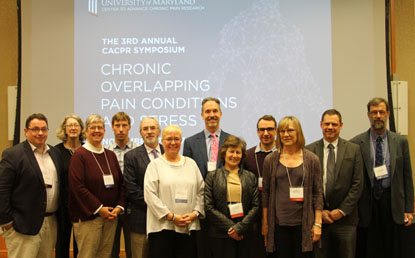 Traub's presentation at the CACPR forum focused on the potential of animal studies for uncovering the connection between chronic stress and chronic pain, particularly whether stress can modulate the brain circuitry that is processing one type of pain so that other types of pain can emerge.
Studies from his lab showed that gonadal hormones can affect the response to stress-induced pain, which could result in disparities in how men and women experience chronic pain.
"It's known that hormones play a role in pain processing, and in many cases estrogen appears to facilitate stress-induced pain, while testosterone mitigates it."
Traub's research is a part of a wider examination of how men and women experience chronic pain.
While chronic pain conditions rarely occur in isolation, the studying of overlapping conditions is surprisingly rare in the field, according to Greenspan.
"The idea of examining multiple pain conditions and what drives them is an idea that gained traction two to three years ago," he says. "Typically, people only look at one condition in isolation, like Temporomandibular Joint Disorders or lower back pain."
Ultimately, Greenspan hopes that the CACPR forum will spark new ideas and new collaborative research.