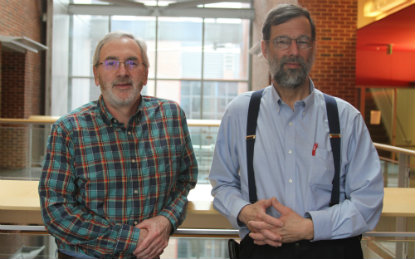 In September 2006, members of the Special Interest Group on Sex, Gender and Pain of the International Association for the Study of Pain (IASP) met at the University of Maryland Baltimore to discuss sex and gender differences in pain and analgesia and established guidelines for pain research. Their ideas were published in the October 2007 issue of Pain, the IASP's official journal.
Now, a decade later, the report has newfound relevance—and is being recognized as the journal's most highly cited article in 2016. Two of the paper's co-authors, Joel Greenspan, PhD, professor and chair in the Department of Neural and Pain Sciences in the University of Maryland School of Dentistry (UMSOD), and Richard Traub, PhD, professor and vice-chair, attribute this award and the heightened interest in their work to a 2014 directive by National Institutes of Health (NIH) Director Francis S. Collins, MD, PhD, which called for more gender balance in animal studies.
Collins' directive said an "over-reliance on male animals" had led to a neglect of key sex differences that should be guiding clinical studies. As a result, new animal studies would have to account for sex differences unless there was a compelling reason not to.
"From pre-clinical studies, it was already apparent there were sex differences in pain processing and that you needed to study sex differences in animals; even knowing the sex of the animal cultured cells came from," said Traub. "Our [2007] paper has served as a road map for those now studying sex and gender differences in pain."
Greenspan, Traub and their co-authors had argued there were factors that could differentially influence pain in men and women, such as differences in stress responses that result in greater prevalence and intensity of chronic pain syndromes reported for women compared to men. Their study tabulated sex differences for several notably painful disorders that deserved greater research. For example, women are more likely to be diagnosed with temporomandibular disorder and irritable bowel syndrome, while men are more likely to be diagnosed with pancreatic cancer.
Ultimately, Greenspan and Traub are looking forward to new studies that build on their foundation. "Our conference and paper established what we have for evidence that differences exist—and there's a lot of evidence in both human and animal models," said Greenspan. "Additionally, the paper provided the expert consensus "roadmap" for future research in this area."
---