Lida Alimorad, DDS '10, was inspired to become a dentist after a narrow escape from death.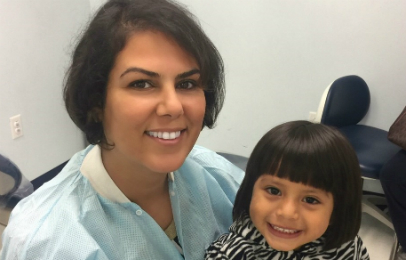 When she was 18 years old, Alimorad was diagnosed with leukemia. Then living in an underserved area in Iran, she had limited options for treatment. Her mother, desperate for a solution, discovered a bone marrow research study being conducted at the National Institutes of Health in Bethesda, Md., and applied for it.
"It was the only chance I had," says Alimorad.
Their application was accepted, and Alimorad's family immigrated to the United States so that she could receive treatment. Alimorad's brother was a perfect match for the bone marrow transplant, and the procedure was ultimately successful.
But the recovery process was difficult, and in her weakened state, Alimorad's oral health was affected. "With leukemia, you can get gum disease, and you can't brush your teeth because it can cause bleeding," she says.
The NIH Clinical Center assigned her a dentist: UMSOD alum, Lida Radfar, DDS '94, MS, began to visit Alimorad every morning and afternoon. Radfar, now an associate professor in the department of Oral Diagnosis and Radiology at the University of Oklahoma College of Dentistry, treated Alimorad with a sponge and mixture of peridox and Chlorhexidine, and examined her for signs of bacterial and fungal diseases.
More importantly, Radfar's compassion helped Alimorad cope with the challenges of recovery. "I was an 18-year-old girl who had lost my hair and was bruising," says Alimorad, "she tried to talk in a way that made me feel better during treatment and told me 'You're beautiful, this will pass quickly.'"
Radfar credits Alimorad's own resilience with aiding the recovery.
"Alimorad helped us by being strong and understanding going through these difficult treatments," she said, "It was a very emotional time and we were able to get control of the situation."
Radfar's empathy ultimately motivated Alimorad to become a dentist, and when she applied to UMSOD, she wrote movingly about Radfar in her personal statement.
"I'm very proud of her and glad that I her inspired to go into dentistry," says Radfar.
Now, Alimorad has dedicated her dental career to providing the same compassionate care to patients that she received as a cancer patient. She currently serves as dental director at CCI Health and Wellness Services, where she and her staff treat the underserved, underinsured, and refugee populations in Montgomery and Prince Georges County areas in Maryland.
"Coming from a disadvantaged region in the Middle East, I've tried to help other people, not only dental but wherever we can," she says.
CCI is a growing nonprofit that includes medical and behavioral health clinics in addition to dental services. Alimorad directs all four of the dental clinics, and often goes the extra mile for her patients, including personally raising money for school supplies for underserved families.
These small steps have attracted more long-term patients who are willing to open up to Alimorad. Once, a mother of a young patient who was about to celebrate a birthday confided how devastated she was that his father had recently died. Alimorad helped provide a cake, balloons, and party favors to hold a mini-birthday party for the patient at the clinic. "I was so touched that the mother would feel comfortable enough to share her pain with me," says Alimorad.
Over time, she adds, "hopefully we can have the same impact that Radfar did on me—to share an effect beyond dentistry."