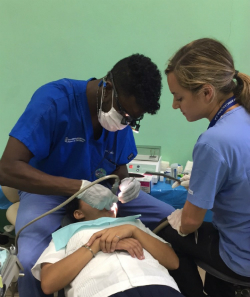 When Binait Kabir '17 got off the bus in a small Honduras village to provide dental care at a makeshift clinic, he could barely believe his eyes.
"You couldn't see the end of the line on the horizon, there were so many people. I still get chills thinking about it," he said.
Kabir was one of five University of Maryland School of Dentistry students selected to participate in the school's Honduras outreach program organized by Medical Ministry International (MMI). MMI works in over 23 countries around the world providing integrated health care to people who would ordinarily have limited or no access to medical services. MMI provides the equipment, selects the locations, and coordinates the patients that the volunteer professionals serve.
Students and faculty from select schools across the U.S. perform the medical services, and our school has been participating in Honduras for more than a decade. The program is highly competitive: an average of 30 students apply for the five available slots, a number that is kept small on purpose, according to program organizer Dr. Ramsay Koury, DMD, clinical assistant professor in the Department of General Dentistry.
"I'd rather five students get an amazing experience than ten have a mediocre one," he said.
Kabir wanted to get involved in Honduras as a foundation for a career to assist underserved international communities. His long-term goal is to provide treatment in Ethiopia, where his family is from. For Kabir and the many other dental school faculty and student participants, the trip has been a life-changing experience.
Dr. Koury says, "I initially went to Honduras because I wanted to give back, but now I go because it takes teaching to a whole new level. It's the best week of the year for me. You eliminate the unimportant stuff there."
For Koury, serving in Honduras through MMI influenced him to start teaching. He made his first trip to Honduras while still in private practice. He was inspired by working alongside University of Maryland students, and they in turn encouraged him to volunteer for the Dean's Faculty.
"I was on the Dean's Faculty a week before I decided I wanted to teach full-time. It has become the greatest thing in my life," he said.
For SOD students, Honduras provides the combination of a rigorous challenge and a culturally enriching patient care experience. Kabir and his four student colleagues served over two hundred patients the first day they got off the bus, and the demand rarely let up over the course of the week.
"People walked for miles and miles to receive care," said Kabir.
Several of Kabir's stories illustrate the resilience and generosity of Honduran villagers, as well as the stark challenges they face. Patients would save the small food items the students gave to them – such as potato chip bags - so they could later share them with their families. One patient needed all of his teeth extracted, which had decayed to the point where his teeth were had fused into the bone. Jhosdyn Barragan, another SOD volunteer, performed the extractions.
"Most people would be in agony during this work, yet the patient sat there and didn't say a word," said Kabir.
The very next day after undergoing this rough procedure, the patient showed up with pineapples to thank Justin for his work.
This mutual appreciation between the Honduran villagers and SOD volunteers has contributed to the lasting partnership. And for the students who participate, the trip provides invaluable experience that prepares them to be better dentists and empathetic caregivers.
"Students get so much one-on-one experience in oral surgery and restorative care, and it doesn't get better than that," said Koury, "many come back to serve in our local clinics – like Perryville – and tell me 'I felt so prepared and so confident because of the trip.'"
The following School of Dentistry students participated in the program in 2016:
Jhosdyn Barragan
Peter Fereg
Aidan Gallagher
Binait Kabir
Allegra Lichauco