Vineet Dhar, BDS, PhD, clinical professor and chair of the Department of Orthodontics and Pediatric Dentistry, first engaged with evidence-based dentistry (EBD) four years ago, but he's already earned a lifetime's worth of accomplishments in the field.
As defined by the American Dental Association (ADA), EBD is an "approach to oral healthcare that requires the judicious integration of systematic assessments of clinically relevant scientific evidence, relating to the patient's oral and medical condition and history, with the dentist's clinical expertise and the patient's treatment needs and preferences." The ideal EBD treatment plan incorporates scientific evidence, the dentist's clinical expertise, and the patient's needs.
Dhar has absorbed the principles of EBD and has applied them in his teaching, clinical research, and patient treatment. He's won an EBD-based award for the past three years. He co-authored a paper on sealants that won the American Association of Pediatric Dentistry's (AAPD) 2017 Paul P. Taylor Award, given to the most prestigious journal article in that year's Pediatric Dentistry. He is also a co-recipient of the 2016 Paul P. Taylor Award for his systematic review evaluating the effectiveness of current therapies for early childhood caries.
Most recently, Dhar was awarded the ADA and AADR 's 2018 Evidence-Based Dentistry Mid-career Faculty Award, given to a candidate who demonstrates leadership in implementing EBD in research, practice, and education and a contribution to the scientific knowledge base of EBD. This award represents the highest honor Dhar has achieved. "It's a large pool of candidates; every field is considered," says Dhar, "It's really exciting to be honored." The awards will be presented at ADA 2018 in Honolulu, HI on Oct. 18 from 3 to 4 p.m. at the Ala Wai Terrace of the Hawaii Convention Center.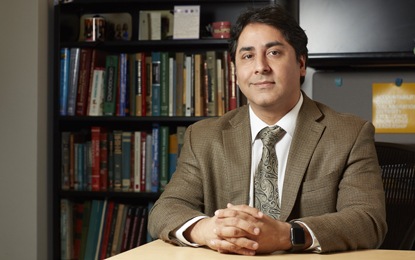 Despite his recent accomplishments, however, Dhar maintains that he is still a newcomer in the field. "I feel like I am just beginning," he says. "The world of EBD is only now opening up for me."
Dhar got his start with EBD in 2014 when he performed clinical trials on early child caries and sealants. After taking a workshop on conducing systemic reviews, he became hooked.
"The beauty of EBD is that it's a separate science itself, and it opens up the entire field of pediatric dentistry in terms of creating reviews and new guidelines for practitioners," he says.
Over time, Dhar has taken the knowledge he acquired from studying EBD and conducting systemic reviews and incorporated it into his teachings with residents in Pediatrics.

"Understanding and utilizing evidence-based dentistry to treat our pediatric patients is a core component of our program," says Jordan Virden, DDS, chief resident in the Division of Pediatric Dentistry. "Dr. Dhar emphasizes using EBD when considering different treatment options for patients, and residents are given opportunities to attend lectures to enable them to thoroughly understand and possess the ability to critically evaluate literature."
As an example, Virden points to Dhar's encouraging the use of silver diamine fluoride as a treatment method. Dhar did so after finding high-quality evidence for its application while drafting guidelines for Oral Health Policies and Best Practices,the AAPD's official EBD reference manual