When she was young, Valli Meeks had an uncle who told her to never miss an opportunity to travel. She has taken him up on that — and then some.
Meeks, an alumna (1988 and 1998) and faculty member of the University of Maryland School of Dentistry (UMSOD) since 1989, has helped Rwanda address its oral health care crisis through the creation of its first dental school. She makes the 20-hour flight (including layovers) to the African nation to assist with the dental school's curriculum, teach, mentor, and bring donated dental equipment that she and her students and faculty colleagues procure.
Back home in Baltimore, Meeks directs the state's first dental clinic for Marylanders with HIV/AIDS and no insurance, which she established in 1989.
Rwanda isn't the only place she visits. As an international expert on people living with HIV, the Pennsylvania native also has given presentations in Brazil (her favorite country), Nigeria, Germany, Trinidad, and London just to name a few.
"I always knew I wanted to be 'hands-on' working with patients. But I never thought I would have had the opportunity to travel to all the different countries I have to lecture and exchange ideas," Meeks says. "I will always be grateful to UMSOD for allowing me the opportunity to travel."
Colleagues say it is them who should be thanking her.
"As a clinical trainer for the MidAtlantic AIDS Education and Training Center, Dr. Meeks developed training materials for dental and medical providers to enable them to recognize oral lesions associated with HIV disease and in the dental management of HIV-positive patients," says Carol Anderson, DDS, MS, director at East Carolina School of Dental Medicine.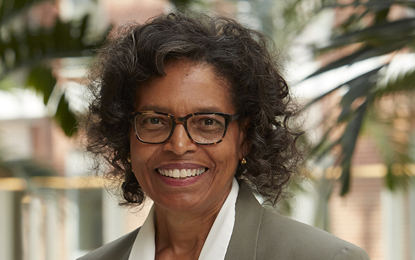 Jane Barrow, MS, associate dean, Harvard School of Dental Medicine, adds that Meeks also mentors students and junior faculty. "Both in Rwanda and in Maryland she is dedicated to her students. She sets an excellent example. They see her passion, empathy, and commitment to research, patient care, and teaching, and are inspired. She is never too busy to help and is always thinking about how both the student and patient experience can be improved."
A humble woman who calls the 2018 UMB Public Servant Award "quite unexpected" despite previous honors including the 2016 University System of Maryland Regents' Faculty Award for Public Service, Meeks says she could do more if she could ever get the hang of scheduling.
"I never seem to be able to stick to a schedule. I'll stay up late to do work or I'll take a power nap and wake up at 3 a.m. and work," says Meeks, who is single with no children but enjoys spoiling her niece and grand-niece. "Between patients I'll do administrative work or lecture preparation. So it is continuous … I would probably be a lot more sane if I stuck to a schedule."
The PLUS Clinic, which is still Baltimore's primary facility to provide comprehensive oral health services to uninsured and underinsured people living with HIV/AIDS, has made major gains under Meeks' direction. In 2013, Meeks partnered with the University of Maryland School of Medicine's Institute of Human Virology's JACQUES Initiative to reduce new HIV infections by providing HIV testing in UMSOD clinics. In 2017, 293 HIV rapid tests were administered at the PLUS Clinic, a 165 percent increase from 2016. She also proudly points out that a new fourth-generation HIV rapid test reveals results four weeks after a possible exposure instead of 12 weeks as in the past.
Thanks to her efforts to secure city and state funding, almost 98 percent of PLUS Clinic patients receive care at no cost. "I am fortunate to have a great staff working with me in the PLUS Clinic," she says. "They enjoy participating in health fairs with community-based organizations to promote not only the importance of oral health, but we really serve as ambassadors for the dental school."
UMSOD Dean Mark A. Reynolds, DDS, PhD, MA, says the need for quality oral health care among those diagnosed with HIV/AIDS is great. "With weakened immune systems, they are at greater risk for ailments such as oral warts, oral fungal infections, and periodontal disease," Reynolds says. "Yet this population frequently has difficulty finding dental care due to the stigma associated with the transmission of HIV disease."
Adds Meeks' UMSOD colleague Renty Franklin, PhD, "Dr. Meeks exemplifies the mission of the University of Maryland, Baltimore to improve the human condition and serve the public good of Maryland and society."
Despite the praise, Meeks says the PLUS Clinic can't "rest on our laurels."
"There is always something that the HIV/AIDS community is involved with," Meeks says. "Now it's the opioid crisis and young adults becoming infected with HIV. But in addition to that, there are still cohorts of people living with HIV disease that are not receiving oral health care. I still want to target them, e.g., women of color and Native Americans."
She can do the seeming impossible, like in 2011 when she was asked by a department head on a Wednesday if she would like to go to Rwanda on Saturday. With the commitment to meeting the health needs of its citizens by 2020, the government of Rwanda, through the Ministry of Health, launched the Human Resources for Health (HRH) Program in August 2012.
"Thanks to the impassioned argument of Dr. Valli Meeks, oral health was incorporated into the HRH plan," Barrow says. "Rwanda now has its first ever dental school and its inaugural class of dental surgeons will graduate in November 2018."
Adds Bonnie Bissonette, EdD, director of the UMB Center for Global Education Initiatives, "She is a champion of the underserved and under-represented, always working toward social justice and equity, and in Rwanda that includes collaboration with colleagues from Harvard and the University of Rwanda College of Medicine and Health Sciences."
Aside from the new dental school in Rwanda, Meeks also has teamed with American Arlene Brown and nonprofit Hope Made Real to make the Urukundo Learning Center a reality there. It began as an orphanage for children displaced by the genocide of 1994 and now provides children up to age 21 with an education.
"Dr. Valli Meeks is a quiet and wonderful soul who has dedicated her life, both figuratively and physically, to treating a particular population who had historically been condemned to isolation or to death," says Brian Swann, DDS, MPH, chief of oral health, Harvard School of Dental Medicine. "When it was not popular and when our society became completely paranoid about being in contact with people with HIV/AIDS, Dr. Meeks was on the front line, providing and educating about their care. This is her life's work. Her actions speak volumes."
Meeks, who enjoys reading and going to the beach in her rare down time, isn't done contributing. Asked her proudest accomplishment, Meeks says, "I hope it hasn't happened yet. I don't want to think I've done it all and start singing 'I Did It My Way' just yet."