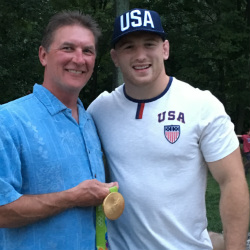 15 years ago, Kent Buckingham - Executive Director of IT and Facilities Management at the School of Dentistry - was coaching a youth soccer team for children aged five years old when he noticed a standout player. This kid, despite his young age, ran as if he had three lungs.
"He never ran out of gas," recalls Buckingham, "he kept going for 45 minutes and was always around the ball."
This kid was named Kyle Snyder, and the initial impression about his endurance would be a lasting one, as Snyder would later go on to compete in wrestling the 2016 Olympic games, winning a Gold Medal and becoming the youngest Olympic Wrestling Champion in USA history at the age of 20.
This wouldn't be the last time Buckingham would encounter Snyder. Snyder's family were neighbors of Buckingham's when Kyle was growing up, and Buckingham's youngest son Brandon is the same age as Kyle. Buckingham's older son Kurt was two years older and friends with Kyle's older brother Stephen. As a result, they were all friends and teammates growing up.
While coaching the travel team for 2006-2007 season for Warriors Wrestling – a program that trains promising young athletes in the Maryland region – Buckingham again got a chance to mentor Snyder, now an eleven-year old (Kurt was also on this team). Despite being a fifth grader competing against bigger and stronger 7th and 8th grade opponents, Snyder compiled seven wins and only one loss.
Wrestling runs in Buckingham's family. His older brothers competed. He won District championships at 119 weight class for Laurel High School in 1981 before a season ending injury. For more than 20 years, he's been coaching wrestling at multiple age levels, a pursuit that he initially he engaged in order to work with his two sons.
"As soon as they were old enough to wrestle, I wanted to coach them, so I got involved," he said.
Given his vast knowledge and experience with Wrestling, Buckingham knew Kyle Snyder was a major talent right away, but even he could not anticipate the heights that Snyder would eventually reach.
"I was confident after coaching him as a 5th grader that he was going to go on to win multiple state championships," said Buckingham, "but I didn't think he was going to do it without losing a single match."
Indeed, Snyder compiled a perfect record in high school, going 179-0 in his first three years and becoming the #1 ranked American high school wrestler according the flowrestling.org. Kyle decided not to compete his senior year at Good Council high school in order to go and train at the Olympic training center in Denver. Before joining the Olympic team, Snyder competed for the Ohio State Buckeyes, placing second in the NCAA championships his freshman year, and winning a national championship his sophomore season.
Despite Snyder's ascent to the national stage, he remains close to the Buckingham family and Brandon in particular. While returning home to Maryland in September (during which he threw the ceremonial first pitch for a September 17th Orioles game) the neighborhood threw a party for him and he graciously signed autographs, took pictures and allowed people to hold his gold medal.
Both Kyle and Brandon continue to bond through the progression of their wrestling careers. While Snyder will undoubtedly compete for future gold medals, Brandon is also in the middle of a standout career as wrestler for University of Maryland Baltimore County. During the 2015-16 season, He compiled a 21-2 record and was an American East Conference champion. He is aiming to achieve All-American status for the upcoming season.