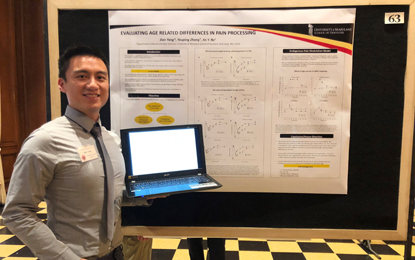 Dan Yang entered the 2018 Hinman Student Research Symposium with modest expectations.

The event, held Nov. 2-4 in Memphis, Tenn., featured 108 student presentations representing 56 dental schools from 32 states, Puerto Rico, and six provinces in Canada. Ten awards were given at the end of the conference: five for clinical research, and five for basic science research.
Yang earned his ticket to the symposium by finishing in third place at the UMSOD Summer Research Training Program poster competition held last summer. "I was just glad that UMSOD was sending me to go," he says. "I saw it as a chance to participate."
Yet the second-year student did more than that, ultimately being named one of the five award winners in basic science research.
Yang's poster presentation examined two different mechanisms of inducing and evaluating pain response in an animal model. The two mechanisms induced different responses, indicating differences in pain processing that are modulated by age and/or sex.
This research was done in collaboration with Yang's UMSOD Summer Research Training Program mentor, Jin Ro, MA, PhD, professor in the Department of Pain and Neural Sciences.
"Dan has great appreciation for the importance of basic science research," says Ro, "Even though the research project he undertook was not directly related to dentistry, he constantly inquired about the clinical relevance of the project and how basic mechanisms can be translated in similar conditions involving oral and facial structures.
Yang credits Ro with providing the hands-on coaching needed to create a winning poster. "He gave me a lot of pointers regarding which of my points were correct, and which were challengeable and debatable. I wanted to represent his lab well, so I leaned heavily on him."
Over time, Yang has also found that his research has been relevant to dental education. "Numbing pain and managing pain is a big part of what we do in the dental field, and understanding where pain comes from and how we process it has been very applicable," he says.
In particular, the complexity of pain processing can influence how clinicians treat patients.
"Your body has a system in place where a stronger pain will mask a weaker pain," Yang notes, "and this explains why a patient could have multiple problems going on, but you might miss a smaller pain because of a more intense problem in their mouth."