Rania Younis, BDS, MDS, PhD, assistant professor in the Department of Oncology and Diagnostic Sciences, was part of a multdisciplinary team featuring nine other researchers that won the Society for Immunotherapy of Cancer's (SITC) Sparkathon competition, held Sept. 12-14, 2018 in Chicago.
Described as a "moonshot" project by Younis, the Sparkathon competition, now in its second year, attempts to address critical issues in immunotherapy within a condensed time period. Younis's team will study the possibility of increasing the safety margin for cancer immunotherapy patients, with the goal of proposing a solution in one year.
Historically, it has taken an average of 17 years for research knowledge to translate into clinical practice, according to the Center for Research in Implementation Science and Prevention.
"They want a quick solution," says Younis. "The 'moonshot' is supposed to lay the foundation for other clinical trials and projects to create advances in immunotherapy."
Younis was among 30 national and international applicants accepted into the competition, which brought together early-career investigators from the fields of cancer immunotherapy, physical sciences, systems biology, and statistics. Participants were then split into three teams of 10, and each team developed a formal project presentation during the course of 48 hours based on a list of key priorities identified by SITC leadership.
Younis' team decided to examine an issue that is a "hurdle that covers so many other hurdles": determining a safe point in time to stop cancer immunotherapy without tumor relapse.
"The issue with immunotherapy is that you have this great white blood cell, cytotoxic T cell, that has this amazing ability to kill malignant cells even in very advanced disseminated stages," says Younis. "This T cell, under normal conditions, is under continuous suppression through checkpoints and suppressor cells."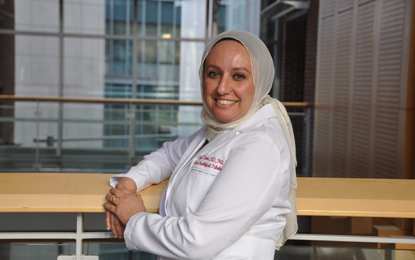 Through cancer immunotherapy, these checkpoints and suppressor cells are bypassed, allowing the cytotoxic cell to eradicate cancer malignancies, but with a major side-effect.
"These cells cure the cancer but can then attack the patient," says Younis.
As a result, the risks of immunotherapy are tremendous: One of three patients die from the treatment. The goal of this current Sparkathon project is to reduce deaths to one out of every five patients.
To achieve this goal, Younis's team will be provided $200,000 to engage in a randomized clinical trial to define and implement guidelines for the duration and succession of immunotherapy.
Younis will serve as the histopathologist for the team, gathering signatures from patients' head and neck melanoma tumor tissues.
"We will collect tumor tissue regularly as the standard of care, and these specimens from the patient are very valuable biomarkers of how the patient is responding to the treatment and when they might relapse," says Younis. "We are going to use the samples to identify the guidelines or biomarkers using proteomics, and this data will tell the oncologist when to stop treatment."
Under the parameters of the clinical trial, one group of patients will stop receiving the immunotherapy treatment after three consecutive bloodwork samples showing stable patient disease, while the second group will still take the medication.
"This will have tremendous potential impact by both increasing patient safety and decreasing the healthcare cost burden," says Younis.