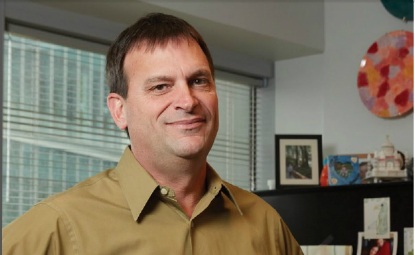 Did you know that sepsis - a blood-borne bacterial infection that affects approximately 1 million people in the United States alone - causes a death every two minutes? Or that a University of Maryland School of Dentistry (UMSOD) scientist is on the forefront of research that could help turn the tide?
In fact, Robert K. Ernst, PhD, UMSOD professor and vice chair of the Department of Microbial Pathogenesis, is receiving accolades and recognition for his discoveries in the field – financially through more than $3 million in research funding since his arrival here in 2008 and academically through his distinction as the University of Maryland, Baltimore's (UMB) 2017 Researcher of the Year.
"The award is a huge honor for me," says Ernst, "and all the past and present members of my lab. I learn with them and, many times, good things come from their hard work."
Ernst was recognized Oct. 14 at UMB's 2017 Founders Week Gala, along with Entrepreneur of the Year Bartley P. Griffith, MD, University of Maryland School of Medicine; Public Servant of the Year Susan M. Antol, PhD, RN, University of Maryland School of Nursing; and Teacher of the Year Fadia Tohme Shaya, PhD, MPH, University of Maryland School of Pharmacy. At the annual recognition event, Dr. Jay Perman, UMB president, also formally kicked off the school's Catalyst Campaign.
Ernst, a graduate from State University of New York who earned an MA degree from SUNY Buffalo and a doctorate from the University of Virginia, in 2008 joined UMSOD where he leads cutting-edge research.
Much of it centers around sepsis, a deadly condition considered the most costly in the country ($20 billion annually) that causes more deaths than prostate cancer, breast cancer, and AIDS combined. The risk of death from sepsis ranges from 30 to 80 percent, depending on the severity of symptoms. Even those who survive the disease are at risk for long-term effects that include amputations, anxiety, memory loss, chronic pain and fatigue, and poor cognitive function.
Thus far, there are no FDA-approved therapeutics for the treatment of the cytokine storm associated with advanced sepsis.
"Antibiotic resistance is an immense threat to global public health," notes UMSOD Dean Mark A. Reynolds, DDS, PhD. "And Dr. Ernst's laboratory has made continued progress toward the identification of Gram-negative modifications that lead to untreatable infections."
With David R. Goodlett, PhD, a professor and colleague in the Department of Pharmaceutical Sciences at the University of Maryland School of Pharmacy, Ernst last year founded a startup diagnostic company called Pataigin. Last fall, the company received a $25,000 Maryland Department of Commerce Life Award to support a patented test that inexpensively identifies bacteria- and fungi-causing infections in less than an hour, allowing clinicians to make decisions in the hospital at the "point-of-care."
The two scientists hope that their work will lead to breakthroughs both in the U.S. and worldwide.
"We would like to be able to rapidly identify bacteria and fungi directly from biological samples [blood, urine, wound effluent] so that clinicians can make more informed decisions to reduce the use of inappropriate antibiotics thereby helping the patient," Ernst says. "If we can reduce the size and cost of the instrumentation, it would be ideal to have it in any clinical setting or make it mobile so that it could be easily deployable in an outbreak or Third World setting."
"This is the most collegial university that I've been associated with," Ernst notes. "The Department of Microbiology and Immunology in the School of Medicine and our department work together hand-in-glove. We are now branching out to do work with cancer researchers at UMB, MedImmune, and the National Cancer Institute, as they are also looking for novel mechanisms to attack cancer cells in the body."
An active mentor who gets his greatest satisfaction from "seeing smart, energetic people in the lab do well," Ernst takes pride in having the opportunity to also help shape future dental clinicians.
"There are 400 to 500 different species of bacteria in the mouth, laid down like tiles," he says. "With over 60 microbiology UMB faculty on campus, our dental students get superior training in microbiology. Today's dentists are the 'above the shoulders' specialists, and the training they get here makes them a more complete dentist."
For more about Robert K. Ernst – go to