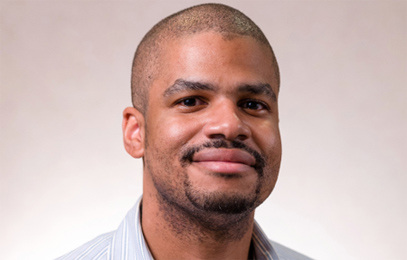 At 37 years of age, Darien Weatherspoon, DDS '10, already has worked in the corporate world and, since receiving his DDS, has served as a dental school faculty member and clinical dentist. These days, he is a program officer who directs the National Institute of Dental and Craniofacial Research's (NIDCR) Health Disparities Research Program.
"I oversee research that affects our underserved communities," Weatherspoon explains, "and I help identify research gaps that, when addressed, should ultimately help improve the oral health of those in need."
A 2002 graduate of the University of Virginia, Weatherspoon was a commerce major who initially worked for an accounting firm conducting information systems audits. However, it wasn't long before he longed for something more: Like many, he had the desire to have a more tangible impact on people's lives.
Weatherspoon didn't know how he wanted to channel that energy, although he was drawn to health care. As he considered his options, the Columbia, Md., native recalled friendly visits to his family dentist, who agreed to let Weatherspoon shadow him. Weatherspoon quickly saw the rapport his dentist built with patients, and the difference he made in their day-to-day lives.
"Dentistry has provided a lot of great opportunities," says Weatherspoon, who, since becoming a dentist has worked as an educator and a practitioner, and has been an active volunteer in service events to promote good oral health. He also completed a residency-training program in dental public health and subsequently obtained board certification.
Weatherspoon has worked as an assistant professor at the University of Illinois at Chicago (UIC) College of Dentistry in the Department of Pediatric Dentistry and the Division of Prevention and Public Health Sciences and as a clinical instructor at the University Of Michigan School Of Dentistry in the Department of Cardiology, Restorative Sciences, and Endodontics.
Clinically, he's treated underserved patients at the Catholic Charities' McCarrick Family Center in Silver Spring, Md., as well as at the West Town Community Health Center in Chicago, where he saw first-hand "how much need there is and how important access to oral health care really is."
His understanding of that need has infused his current work with meaning. His work at the NIDCR comes at a crucial time when dentistry overall is being viewed more holistically in the world of patient care, he says.
On any given day, he may be involved in providing support for research focusing on ways to reduce oral health disparities, participating in national committees aimed at improving the nation's overall health, working with dental public health residents to improve oral health at the population level, or strategizing about improving oral health and reducing oral health disparities.
For someone long drawn to the idea of being able to make a difference in the quality of human lives, it is an exciting time. "Too often, oral health has been looked at as separate from the health of the total body. But we're beginning to view health more holistically," he says, "and the rest of health care is recognizing how important oral health is to total health.