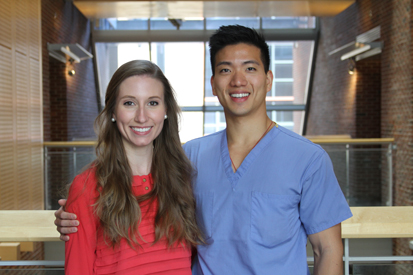 The American College of Prosthodontics Education Foundation (ACPEF) awards Research Fellowship Grants every year to facilitate the research aims of prosthodontics residents. It's a competitive process; candidates from post-graduate programs across the country submit proposals, and only five grants are ultimately awarded.
This year, two of these five winners represent the University of Maryland School of Dentistry.
Leah Romay, DDS '16, and David Chen, DMD '14, were each awarded $6,000 grants at the end of October after a review process from the ACP Research Committee.
Both Romay and Chen's research will center on Computer-Aided Design and Computer-Aided Manufacturing (CAD/CAM) - software that is used to both design and manufacture products.
Romay will be examining the accuracy of CAD/CAM castable materials by assessing the results from a variety of 3D printers and mills over time. Chen will research the human gum tissue response to the acrylic that is used in CAD/CAM versus conventional acrylics.
"The CAD/CAM acrylic is new, so I want to compare that with the acrylic types have been traditionally used," said Chen.
Both Romay and Chen were driven to the field of prosthodontics as a result of a desire to gain a deeper, more comprehensive knowledge of how to treat patients with complex challenges that require much more planning and treatment than the average dental patient.
"Sometimes problems accumulate over the years and patients present a number of problems. You have to take a big step back to really understand what needs to be done to comprehensively help them," said Romay.
Both were also driven to University of Maryland School of Dentistry's prosthodontics program due to its top-notch reputation. Carl F. Driscoll, DMD, Professor and Director of Prosthodontics Residency, was a major draw for both students, as well as the high board certification rate and large contingency of board-certified faculty.
"My mentor referred to the program as the 'ivy-league' of prosthetics, so that motivated me to apply," said Chen, who was enrolled in a general dentistry residency program in Connecticut previous to the School of Dentistry.
Upon completion of the project, both residents will submit the findings of their research projects for publication to the Journal of Prosthodontics, Implant, Esthetic and Reconstructive Dentistry, the official journal of the ACP.