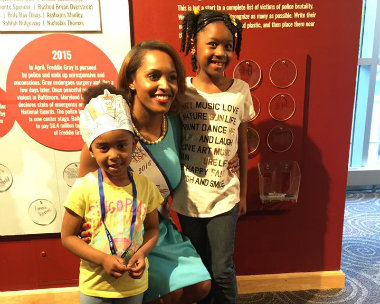 Ashlee Thomas '17 holds the honor of serving as Miss Black Maryland USA. She finished as second runner-up and won the Miss Congeniality Award in the 2016 Miss Black USA competition. Previously, she was Miss Howard University as an undergraduate.
Despite these major accomplishments, Thomas approached these pageants as a means to a more important end: namely, raising awareness about social issues.
"After I was done with Howard, I thought 'I'm finished with pageants,' said Thomas, "but when I looked at the communities of Baltimore, I wanted a platform for people that need it, I wanted to help children."
Throughout her life as a student – beginning at Howard University - Thomas has been engaged with charitable organizations, including Dreamgirls Incorporated, Miss Black Maryland USA, the Boys and Girls Club of America, The Girl Scouts of Central Maryland, and KIPP Baltimore.
A New York native, Thomas wanted to stay in the DC/Virginia area following undergrad for dental school, which led her to apply to the University of Maryland School of Dentistry (UMSOD). During her interview, she was impressed with UMSOD's state-of-the-art facilities and welcoming environment.
"I thought that I would thrive here," she said.
Thomas has thrived primarily through participating in several different charitable outreach efforts. In many cases, Thomas adopts two different personas: one that is the more anonymous "Ashlee" who participates in student organization-led community outreach efforts, and the more prominent persona of Miss Black Maryland for events where she represents herself as an individual.
Thomas is a part of the UMSOD chapter of the Student National Dental Association (SNDA), which won the 2016 Chapter of the Year Award at the NDA annual conference. She helped the organization with oral screening fairs at elementary schools, walking buses, and fundraising efforts.
On other occasions, Thomas presented herself as Miss Black Maryland USA to help inspire the children she works with. She consulted with Clemencia Vargas, DDS, PHD, Associate Professor in the Department of Orthodontics and Pediatric Dentistry, about the best ways to approach this type of advocacy.
"When Ashlee was named Ms. Black Maryland, we talked about her "Queendome" and how she could use this great opportunity to benefit the community," said Vargas, "She decided to dedicate most of her efforts toward children's wellbeing. Ashlee brought her dental knowledge and great role modeling skills to hundreds of children in the Baltimore area."
For Thomas, building esteem for young disadvantaged children is the primary reason she advocates both as Miss Black Maryland and through UMSOD student associations. She hopes to specialize in pediatrics and build healthy smiles for children. She views esteem as something that is both mental and physical, which fits well with the approach of maintaining oral health.
"Taking care of your body is a form of esteem, and oral health deserves more attention than it gets," she said, "if we could start more preventive programs in school, we can really have an impact especially for children in underserved communities."
Based on the reactions of the children, Thomas's visits had very positive effect, according to Vargas:
"The best experience I remember was her participation in career day at the KIPP school -- she brought her crown and her sash to share with the 7th and 8th grade students after her presentation on oral health related careers. Weeks after that presentation the children still talked about it!," she said.
Thomas wants to continue to advocate for underserved communities beyond the elementary school level, including helping promising students get increased access to state grants and loan repayment plans to attend college.
Thomas is currently applying for residency programs, and her long-term post-graduation plans include opening a pediatric dental practice and creating a mobile dental clinic intended to serve underserved communities.