Most dental students follow the same path. They spend four years (or more) learning the science and technique behind the profession. After graduation, they face the brand-new challenge of how to operate and manage a practice like a business.
Rising fourth-year student Katherine Bell took the opposite approach.
After graduating from Hamilton College with a degree in economics, Bell worked at a hospital research and consulting firm until her mother, Barbara Bell, DDS, PA, decided to come out of retirement and practice dentistry again. Bell spent several years managing the business side of her mother's practice in Frederick, Md.
Despite describing herself as "not a science person," Bell could not resist the pull of dentistry while working alongside her mother.
"My parents were dentists, but I wanted to be my own person," says Bell. "I ended up enjoying the hands-on experience of dentistry while working at the practice and decided to make a career transition."
Now a D4 at the University of Maryland School of Dentistry (UMSOD), Bell was awarded the Omicron Kappa Upsilon (OKU) Dr. William S. Kramer Award of Excellence on May 7, which is given to a junior dental student who has demonstrated scholarship, character, and the potential promise for advancement of dentistry.

Bell's maturity and demeanor – developed during her years in practice management — in addition to her academic performance and leadership, were critical factors in earning the award, according to Jeffery Price, DDS, MDS, clinical associate professor in the Department of Oncology and Diagnostic Sciences. Price is faculty president of UMSOD's OKU chapter.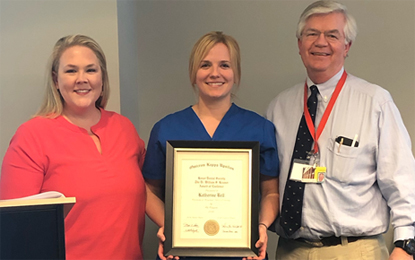 "The maturity level sets her apart," he says. "She's found the perfect balance of being confident, but not overconfident. She's reliable, and she knows how to manage the systems and talk to people in a healthcare setting."
Bell's classmates have looked to her maturity and experience as well. When she was a first-year student, she was encouraged to serve as class treasurer due to her economics background. In her second year, her classmates then lobbied for her to run for vice president due to her ability to bring people together.
Leadership comes naturally to Bell, who previously served as team captain of the D.C. Furies women's rugby senior team.

"As a team you need to work together to succeed and it often takes a voice or two to help steer the team toward success," says Bell, "I have approached leading in dental school in the same way as I have approached leading in athletics. I want my class to succeed, and I am motivated by us all becoming successful, productive members of our profession in the future."
In addition to her class leadership roles, Bell serves on the UMSOD judicial committee and has volunteered for Mission of Mercy. As Price notes, Bell's multifaceted accomplishments honor Kramer, the original founder of the OKU society.

"Academic performance, community service, and leadership are some of the criteria for the award," says Price, "but the final criteria is tough: 'what do you think the student's potential is in the future to continue as a leader and ethical practitioner?' We thought that her abilities and demeanor indicated strong potential."

After graduating next year, Bell plans to return to where she started: her mother's practice, this time as an associate practicing dentist.