Linda Powers, DDS '19, has been interested in dentistry since she was in elementary school. Not only was her father a practicing dentist, but he also suffered from oral cancer.

"It made me realize how impactful dentistry is," she says, "not just for oral health, but for overall well-being."
Powers will fulfill her childhood dream when she graduates from the University of Maryland School Dentistry (UMSOD) on May 17. Along the way, she's compiled an impressive track record as an oral health volunteer, winning several awards for her service efforts.

When she began her undergraduate studies at the University of Maryland, College Park (UMCP), Global Dental Brigades – an international movement of students and healthcare professionals who work alongside local communities to implement sustainable health systems in under-resourced communities in Honduras and Nicaragua – did not have a local UMCP chapter. Undeterred, Powers collaborated with other classmates to create one.

They recruited volunteer students and dentists, raised money, and organized their first trip to Honduras. While there, they provided dental education to Honduran children and assisted dentists with urgent care procedures.

"It was an experience that really moved us and opened our eyes to what it's like to lack access to care," she said.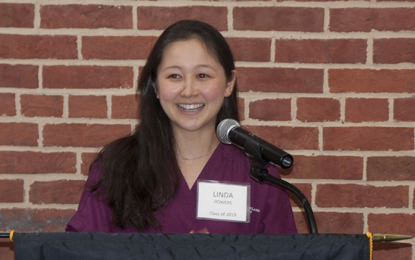 Powers eventually took over leadership of the UMCP Global Dental Brigades chapter and helped organize the next two missions, but she wanted to do more. The UMCP Do Good Challenge – an annual, schoolwide competition that inspires students to create innovative ideas that produce social impact for contemporary problems – presented that opportunity.

"The Do Good Challenge seemed like the perfect platform to leave my mark," she said.
Powers, with the help of teammates and the Do Good Institute resources, organized the Miles for Smiles 5K run both to inform the campus about the importance of healthcare and raise money for Global Dental Brigades missions. "It was a way to fund the missions and also to remind college students that they should brush, floss, and get regular dental checkups," she said.
Miles for Smiles won the Audience Choice Award and first place honors from the judges at the Do Good Challenge, and Powers took home $7,000 in prize money for her cause. Most importantly, the awards helped Powers create a sustainable infrastructure for Miles for Smiles and the Global Dental Brigade chapter, which have continued on since Powers graduated in 2015. Powers has returned to UMCP to support these organizations as a volunteer.

In recognition of her work with Miles for Smiles, Powers recently received the Do Good Award at the UMCP Alumni Association's first annual Maryland Awards.

"It was a very humbling experience, and brings me more passion to give back," she says.

As a dental student at UMSOD, Powers has remained dedicated to service. She has participated in the Mission of Mercy (MOM) every year since enrolling at the school.
"Working with Linda at the Missions of Mercy, I'm inspired by her full measure of devotion to her patients," says Howard S. Freundlich, DDS, general practice assistant director at UMSOD, "I find her sincerity and drive to improve the life of others she comes in contact with is deeply woven into her human fabric."

After graduation, Powers will enter a general practice residency before returning to Maryland to practice. She hopes to continue her volunteerism through serving on future mission trips and returning as a UMSOD Dean's Faculty member.

"There is nothing more rewarding than to help someone who needs it. There's so much more you can do as a dentist than simply practice," she says.