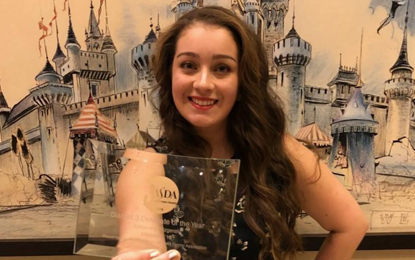 In the Spring of 2017, rising fourth-year student Alexandra Fitzgerald, the incoming president of the American Student Dental Association (ASDA) chapter, met with Karen Faraone, DDS, MA, associate dean of student affairs, to discuss the organization's goals for the year.
Both agreed that ASDA, an organization that attempts to protect and advance the rights, interests, and welfare of dental students, needed a larger profile with both UMSOD students and the outside world.

"We felt that ASDA wasn't an organization that our school emphasized, and we wanted to bring it to the forefront," said Fitzgerald.

"Our ASDA chapter needed to have more of a national presence given the prestige of UMSOD," echoed Faraone.
One year later, it's safe to say that their mission was successful: during the ASDA District 3 Annual meeting held January 13 in Poconos, Pa., UMSOD won the Most Improved Chapter, Best Social Media Usage, and Best Community Service Event. In addition, second-year student Cao-Minh Tran won the Rising ASDA Leader Award.

A month later, Fitzgerald won District 3 Delegate of the Year at the ASDA Annual Session, called the Gold Crown Awards, held February 23 in Anaheim, Ca.
Fitzgerald credits the rapid growth and success of the ASDA chapter to a multi-part strategy to engage students through fundraising, advocacy, wellness initiatives, and community service. The chapter also re-wrote its constitution at the start of Fitzgerald's term In March of 2017 in order to place more D1 and D2 students in leadership roles.
"When I first came to UMSOD, I didn't know ASDA existed," said Fitzgerald, "we wanted to turn it into a one-stop shop that every student should care about from the moment they arrive at school."

ASDA leadership maintained a full calendar of events – either arranged by the organization itself or in collaboration with other student organizations – to increase its presence. These events included hosting yoga sessions, paint nights, hiking excursions, volunteering at health fairs, organizing diabetes screenings at clinics, and holding a professional development series in collaboration with UMSOD alumni board of directors.
In addition, Fitzgerald, ASDA Wellness chair Maggie Saludis, and member Teebok Choi all sat on the Mission of Mercy (MOM) committee and played a critical role in organizing third-year and fourth-year students to perform restorations and extractions at the MOM events throughout Maryland. The chapter earned the Best Community Service award in recognition of their efforts at the Baltimore MOM.
The chapter also increased its fundraising capacity, establishing a relationship with the Baltimore Wine Fest and selling tickets to students at a reduced rate, holding Chick-fil-A Fundraisers on campus, and co-hosting events with other student organizations, including a November taco fundraiser held in collaboration with Hispanic Dental Association to raise money for victims affected by Hurricane Maria.
Successful fundraising enabled the chapter to send more members to professional development and lobbying events. ASDA's lobbying efforts are the most critical part of its mission, according to Fitzgerald, and the UMSOD chapter regularly sends student delegations to Annapolis and Washington to advocate for dental students and oral health care as a whole.
"ASDA is leading the charge in student loan reform as well as efforts to lobby for bills to increase access to oral healthcare, and it's the single most importance organization to ensure that students have a voice and are cared about," she says.

Tran, winner of the Rising ASDA Leader Award, credits Fitzgerald for increasing the chapter's presence and for giving him the freedom to establish a successful pre-dental mentorship program with local undergraduate universities. "Once I saw the chapter gaining traction, I decided to jump on board, and Alexandra gave me a lot of freedom for me establish my role," says Tran.
Faraone praises Fitzgerald for elevating the performance of the chapter after last year's president, Chad Dammeling, DDS '17, laid a strong foundation.
"Chad got the ball rolling last year, and Alexandra took it and ran," she says.