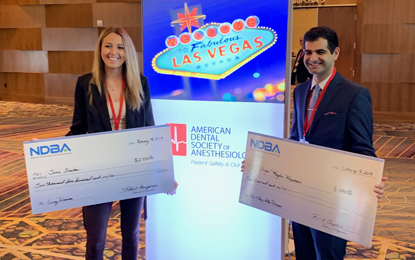 One student conducted a survey to gauge the knowledge and interest in sedation training from his classmates. Another student wrote an essay on the potential of cannabis for dental pain management.

Both submitted their studies for the American Dental Society of Anesthesiology meeting held February, 15-16 in Las Vegas. And both excelled in their respective competitions.

Fourth-year student Tara Sheehan won first place in the student essay competition for her paper "Cannabis and Dentistry," and third-year Mazda Mansouri placed third in the poster competition with his submission "The Increased Need for Sedation in Dental Education."

Sheehan was inspired to study cannabis's potential as a source of alternative pain control to opioids.

"Opioids are a major source of concern for the dental community," she says. "Cannabis is not nearly as habit-forming and the mortality rate is not as high, and the receptors it binds to doesn't stop breathing or heart rate."

Sheehan was surprised to find that there was limited existing research for cannabis's potential for pain management, outside of seizures and chronic pain disorders, which motivated her to examine the issue further. In her research, she found potential for utilizing Cannabis to treat chronic oral pain conditions such as temporomandibular join (TMJ) disorder and Trigeminal neuralgia.

"There are so many oral-facial chronic pain conditions, such as TMJ and lock-jaw, where medical cannabis could help and keep people off of opioids," she says.

Mansouri was inspired to learn more about sedation education because he felt there was more potential to teach it at the pre-doctoral level.

"There are various modes of sedation, Intravenous (IV), Nitrous, and an oral," he says. "Our only experience in pre-doctoral education is with nitrous, and we get limited clinical experiences administering the other forms of sedation on our own patients that may be interested in them."

Mansouri issued a 13-question survey to his classmates to gauge the literacy and interest of predoctoral students, and found overwhelming support to boost sedation education in the predoctoral setting. 78% of students were interested in looking to shorten existing courses in the curriculum to allow for more courses and clinical experiences in sedation. Furthermore, 80% expressed an interest in taking Continuing Education (CE) course in sedation after graduation.

Mansouri envisions the school implementing an anesthesiology clerkship to both junior and senior students. The clerkship would serve to provide more clinical experiences and as a supplement to oral surgery and dental anesthesiology introductory courses. Students in the dental anesthesiology clerkship would complete a small number of restorative cases under nitrous oxide or oral sedation with supervision.

"A clerkship could start small and grow," he said, "and it allows a number of students to do restorative cases that they wouldn't normally do under various modes of sedation."

During the ADSA conference, Mansouri found that pre-doctoral dental students from other schools also expressed an interest in additional sedation education.

Both students plan to continue their anesthesiology interest after graduation. Sheehan will enroll in a General Practice Residency program at Columbia University due to its strong anesthesiology component. Mansouri, a third-year student, also plans to enroll in a fifth-year residency in an Advanced Education in General Dentistry program with a strong background in sedation and aspires to become a practice owner in the near future.