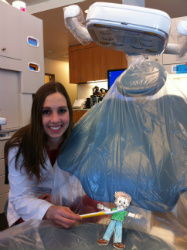 Growing up, Sarah Luce '12 spent hours listening to her mother's stories about serving as a nurse on Native American reservations. So when she graduated from the University of Maryland School of Dentistry (UMSOD) and was offered a job providing oral care to the native populations surrounding Nome, Alaska, she jumped at the chance.
"My [future] boss warned me: 'It's rural, it's rough, and you should really think about it. I didn't really do that,'" said Luce, who is a tribal dentist for the Norton Sound Health Corporation (NSHC), a tribally owned, nonprofit health care organization.
For the past 4 years, Luce has provided oral health services to the residents of Nome, a town of 3,598 located on the Norton Sound of the Bering Sea, 143 miles from the Arctic Circle. Most days, Luce works in the dental clinic of the Norton Sound Regional Hospital. She provides her patients with everything from braces to surgical extractions. "We do everything because there are no specialists at the hospital," she said.
Luce also is responsible for providing care to the residents of 15 surrounding villages, all of which are accessible only by plane. Eleven times a year, she flies out and spends a week in each village. The challenges make her job more exciting and rewarding, she said. "I am engaging in my life's greatest adventure. Here I am at the top of the world; there are people who are in need of healthcare; and I'm here to provide it."
It's an adventure that Luce is extremely thankful for, considering her dental career came so close to never happening. Her introduction to dentistry came a result of procrastination at age 17, when she waited until the last minute to secure a senior internship.
"My father was in church and asked, 'Can anybody help her?'" she said.
Fortunately, William Schneider, DMD (father of Adam Schneider, DDS '98), was in attendance and offered Luce an internship at his Gaithersburg practice. The experience hooked Luce, who returned the next summer to work as an assistant, helping with sterilization, X-rays, and chair-side work. "It was awesome," she said. "I just loved it."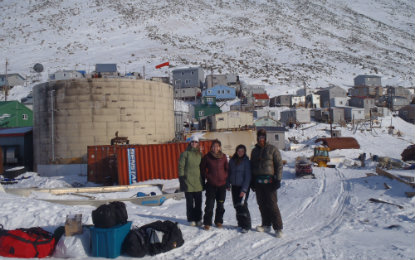 Luce enrolled in St. Mary's College of Maryland, graduating in 2005. Dental School was the next step, but her DAT scores were not high enough to be accepted. She applied several times to no avail. In 2008, she submitted what she figured would be her last application to UMSOD, acknowledged she had "'given up,' and moved to Seattle, Washington, to rock-climb and ski.
But because she had been so persistent, UMSOD offered her an interview. She dropped what she was doing and flew back to Baltimore. She was accepted the day she interviewed. "They thought I had the heart to be a dentist," she said, "it's a testament that Maryland looked at each application and gave me a chance, because there's more to being a dentist than good test scores."
Luce approached her experience with rigorous dedication. Her positive attitude and empathy for her patients was noticed by Nisha Ganesh, DDS '07, former assistant professor in the Department of General Dentistry (now clinical assistant professor at East Carolina University School of Dental Medicine).
"Sarah was extremely positive, motivated, and aware of public health issues," said Ganesh. "In the clinic, she cared about the outcomes of the patient above her own needs, and that trait is what we look for in all of our students."
Luce's awareness of public health issues, compassion for patients, and interest in working with native populations, catalyzed her to apply for the job in Alaska. Again, a twist of fate led to her securing the post: Another candidate was hired, but her boss reviewed her application again and decided to create a position for her.
In the ensuing years, Luce has found her home—in more ways than one. She is now married with a 1-year old daughter, Dani Elizabeth Luce. "I feel like a higher power was calling me," she said. "I'm going to be up here to stay for long, long time.