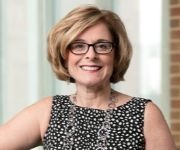 Throughout her career, Marion Manski, RDH '88, MS '04, has been a trailblazer within the dental hygiene profession—whether advocating for hygienists' rights to administer nitrous oxide and local anesthesia or increasing preventive dentistry outreach in local communities.
Manski's successes were formally recognized June 17 when she received the Irene Newman Professional Achievement Award during the American Dental Hygienists' Association's (ADHA) annual conference.
The annual award honors individuals who advance the art and science of the dental hygiene profession. This year is the second consecutive year in which a University of Maryland School of Dentistry (UMSOD) professor has been a recipient; Jacquelyn Fried, RDH, MS, was the 2016 honoree.
"She has a passion for dental hygiene, and it shows in all that she does. When I was a student, she encouraged me to become active in my professional association, and sparked my own leadership journey," said Laura Smith, RDH '12, who studied under Manski and nominated her for the award.
Credited with expanding the scope of practice for dental hygienists in Maryland, Manski successfully advocated for dental hygienists to have the right to administer local anesthesia and nitrous oxide. "Dental hygienists have been able to administer local anesthesia in other states as early as the 1970s, and hygienists are highly educated and able administer local anesthesia, as it's been a success here since 2010. It also fosters team spirit and continuity of care. The dentist does not have to administer and the patient receives anesthesia and care from the dental hygienist," she said.
In 2006, Manski completed a local anesthesia training course given by the University of New Haven in Connecticut. She then launched a local anesthesia training course in Maryland through the UMSOD dental hygiene program. In 2009, she received the Northeast Regional Board Certification, becoming the first course-licensed dental hygienist in in the state. She was able to teach a lab competency level to UMSOD dental hygiene students until a law passed in 2010 licensing hygienists to administer anesthesia. Thus, her course was established early on before passage of the bill, and she submitted her course as a template for the Maryland State Board of Dental Examiners, as a member of the local anesthesia ad-hoc committee, to create rules and regulations for anesthesia in 2010 that were eventually adapted into law.
Dental hygienists were approved in 2010 by the Maryland legislature to monitor nitrous oxide, and in 2016, the Maryland Dental Hygienists' Association successfully advocated to add administration to the scope of practice. "The Maryland Dental Hygienists' Association had a great coalition of stakeholders who helped us push these initiatives through," she said.
Manski has served as President and Legislative Chair of the Maryland Dental Hygienists' Association and serves as Delegate to the American Dental Hygienists' Association.
In recognition of her advocacy, Manski was included in the 9th annual "6 Dental Hygienists You Want to Know" list by Dimensions of Dental Hygiene, a monthly, peer-reviewed, professional journal.
This list comprises hygienists who are identified by their peers as leaders within several categories including academia, clinical practice, and industry. Manski was listed in the "Mover and Shaker" category.
In addition to local anesthesia and nitrous oxide monitoring and administration, Manski has pushed for greater interprofessional education between hygienists and other health professionals. "We want to expand the arm of dentistry that is prevention," she said. "If we could get to the point where people have more access to care, we can have a positive impact on prevention of disease orally and systemically."
A native of Branford, CT., Manski became interested in oral health at age 15, when she worked as an orthodontic assistant in an orthodontic office. "I became fascinated with everything teeth," she said.
She attended Northeastern University/The Forsyth School For Dental Hygienists in Boston MA, graduating with an Associate of Science degree in Dental Hygiene. She later enrolled at UMSOD, graduating in 1988 with a Bachelor of Science in Dental Hygiene. She completed her Master of Science Degree in Dental Hygiene Education at UMSOD in 2004. Her thesis focused on Early Childhood Caries.

Manski joined the UMSOD faculty as a clinical instructor while simultaneously working at Cross Keys Dental Associates, a Baltimore pediatric dental practice. In 2005, she became a full time faculty and Director of Admissions and Recruitment for the Dental Hygiene program. She was promoted to Acting Director of the Dental Hygiene program in 2011 and became Director in 2012.