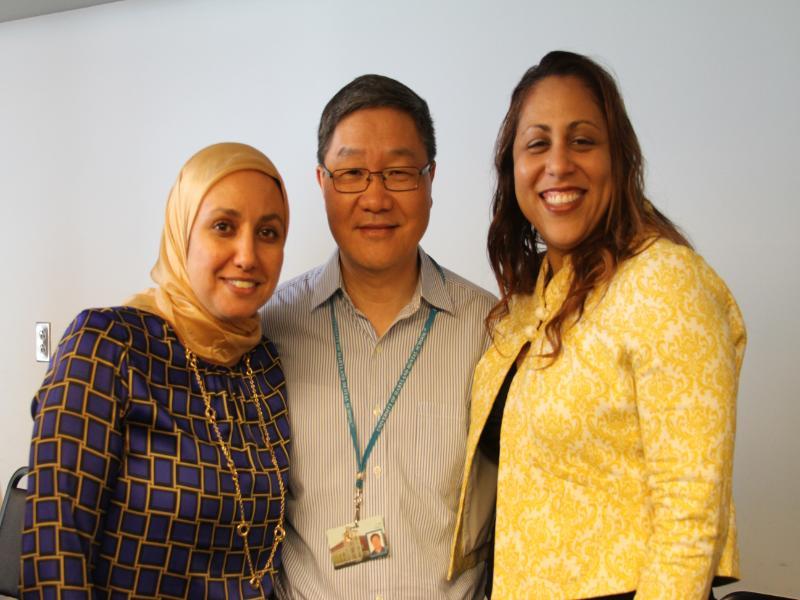 (L to R): Dr. Rania Younis, Dr. Li Mao, and Dr. Isabella Rambob
UMSOD's mission advocates that quality oral health is integral to general health and well-being. Dr. Li Mao, former research dean and chairman of the Department of Oncology and Diagnostic Sciences, made critical contributions toward the advancement of this mission.
On June 1st, School of Dentistry faculty and staff gathered together to hold a farewell reception for Dr. Mao. In the six years Dr. Mao served at SOD, he focused his research on introducing practical concepts that could expand the ways in which dentistry could play a major role in prevention and early detection of non-oral health problems.
"I want our dental students to view their patients as a whole individual and not just teeth," he said in a 2011 interview for Mdental magazine, shortly after he came onboard at SOD.
This devotion to comprehensive heath has informed Dr. Mao's approach ever since he graduated from Nanjing Medical University in 1982. Serving as both a surgeon and a researcher, he worked tirelessly to understand the biology of cancer and develop customized treatment plans based on the findings of his research. He continued to refine this approach throughout his career, including stints as a researcher at the Mayo Clinic in Minnesota and as an assistant professor at the University of Texas MD Anderson Cancer Center.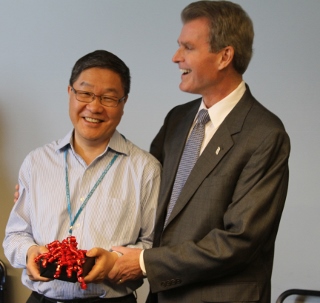 While Dr. Mao was very dedicated to his research, he was also committed to the education of his students and the development of faculty, particularly junior faculty, according to Dr. Renty Franklin, professor and interim chair of the Department of Oncology and Diagnostic Sciences.
"He was an outstanding chair and we will miss his leadership," said Dr. Franklin.
‌Dr. Mao will be joining Johnson and Johnson Family of Companies as Vice President and Head of the Lung and Cancer Center. The connection between Lung cancer and dental hygiene has been a major focus of Dr. Mao's work: one of his past research studies revealed that abnormalities in the oral cavity may lead to the early detection of lung cancer, a finding that potentially indicates that the oral cavity could be a link to diseases in other parts of the body.
These critical research advances, coupled with his personal integrity and leadership skills, have ensured that Dr. Mao's legacy at SOD will be a long-lasting one.
"Dr. Mao has an outstanding record of accomplishments throughout his career," said Dr. Mark Reynolds, Dean of SOD, "He has been a visionary leader, valued colleague, and highly effective administrator and contributor at the University of Maryland Baltimore. Dr. Mao has added greatly to the national and international recognition of the school and university through his scientific contributions and scholarship as well as his global outreach."
Interested in supporting SOD research efforts? Please click on the following link to learn more about our initiatives.