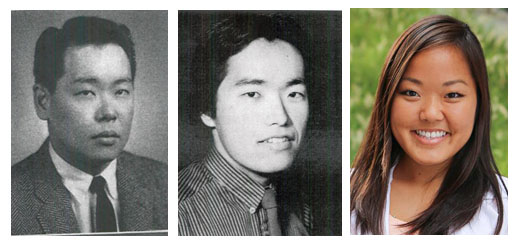 (L to R): Alan Miyamoto '62, Michael Miyamoto '87, and Courtney Miyamoto '18
The distance from the island of Maui to Baltimore is 4800 miles and a 12 hour flight, but this hasn't stopped three generations of Miyamoto family members from attending the School of Dentistry.
Courtney Miyamoto '18 is a rising Junior at SOD. She is the daughter of Michael Miyamoto '87, and granddaughter of Alan Miyamoto '62. When she heard that her grandfather – who had successfully battled cancer twice since 2007 while still maintaining his private practice in Maui – was diagnosed with cancer for the third time, Courtney decided to produce a GoPro video documenting her life as a 2nd year student as a tribute to him.
"I wanted to create an upbeat video to show my grandfather what the school was like in 2016, as well as something that families and friends of dental students could also watch to get a sense of campus life," said Miyamoto.
Miyamoto's film (embedded below) captures a comprehensive first-person look at life at SOD; not just the lab and classroom work, but also the social events, the surrounding Baltimore cultural milieu, and even skateboarding to and from class.
It's a fitting tribute to a school with a longstanding Miyamoto family tradition. Courtney's grandfather Alan came to SOD from difficult circumstances. His father had emigrated to Hawaii from Japan to work on a sugar cane plantation. The workers at the plantation collectively pitched in to fund Alan's education. After graduating from SOD (then called the Baltimore College of Dental Surgery), he served in the Air Force before starting a private practice in Maui in 1964. During his career as a dentist, Alan served as the director of the Hawaii Dental Service (1978-1990) and the board of Dental Examiners (1990-1998). He continued to work at his private practice until his death in February.
"Although the video was not completed in time to show him, I'm sure he's happy to see his mo'opuna (grandchild in Hawaiian) growing up from his resting place above," said Courtney, "he influenced so many people throughout his lifetime and will continue to do so as we walk down our own paths in life with him in our hearts."
Alan Miyamoto's son Michael followed in his footsteps. He graduated from UMSOD in 1987 and returned to Maui to work at the family practice with an emphasis on cosmetic dentistry. Dr. Miyamoto earned Best Dentist in Hawaii honors from Honolulu Magazine for five straight years between 2009-2014.
Outside of dentistry, Miyamoto family members are passionate about activities that reflect their Hawaiian roots. Grandfather Alan played the ukulele and engaged in spear fishing. Michael is an avid surfer, and he taught Courtney and her two younger sisters Lindsey and Caitlyn how to surf, skateboard, fish, and camp on the beach from an early age. Courtney continues to enjoy these activities to this day.
"My father's definitely been my role model when it comes to working with patients and making time for his favorite hobbies," said Courtney.
Initially, Courtney wanted to break from the Maryland tradition and attend a dental school on the West Coast, but her visit and interviews at SOD changed her mind.
"I was amazed by what the school had to offer with all the new facilities and up-to-date appliances and simulation labs," she said, "my father accompanied me on my move to campus and was similarly impressed on how far the school had come along."
After completing her 2nd year, Courtney has just started clinical practice work. While the family practice in Hawaii - Miyamoto Dental Designs Suite, Inc. - is always open to her, her family has encouraged her to explore her interests and options to find her niche. She is currently considering a specialty in prosthodontics.