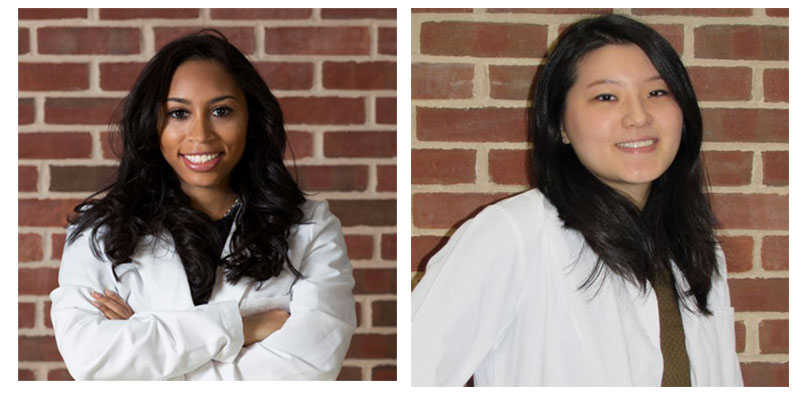 Tera Poole and Yee Seul Chun
Both Dr. Tera Poole and Dr. Yee Seul Chun were elated to see their names listed as co-honorees for Summa Cum Laude at the University of Maryland School of Dentistry's 2016 Commencement, but the meaning of this recognition went deeper than academic achievement.
Dr. Poole's Summa Cum Laude honor is unprecedented: she is the first African-American graduate of SOD to earn the award, and this milestone has garnered attention from multiple publications, including Essence Magazine, Mic, and Yahoo News.
For Dr. Chun, a first generation Korean-American born and raised in Maryland, earning Summa Cum Laude honors brought extra significance to what was already a special day for her and her relatives.
"As the first doctor in my family, I knew my graduation in general made them extremely proud. My father's reaction (at receiving Summa Cum Laude) was priceless and made that graduation day something that I'll remember forever."
Dean Mark Reynolds was also delighted by the accomplishments of the two graduates. "We are very proud to have two Summa Cum Laude honorees this year and congratulate them on this achievement. Our school of dentistry places a high priority on developing future leaders, and - through an inclusive admissions process - on graduating multicultural cohorts of dental professionals equipped to serve a culturally diverse population."
A Leader with a Reputation for Selflessness
In addition to being the first African-American to receive Summa Cum Laude honors from SOD, Dr. Poole was also the first African-American female Class President (Adrian Cummins – 2013 - was the first African-American Class President). Dr. Poole gave her Commencement address moments after finding out she had received the Gold Medal for Scholarship.
"It was my first time speaking in front of that many people, so learning that news actually helped calm my anxiousness," she said.
In addition to serving as class leader, Dr. Poole was involved in several other school and community organizations: she was a member of the Orthodontic Interest Group, served as student editor for Maryland Dental, and she helped classmates organize a fundraising effort to purchase supplies for an orphanage serving physically disabled children in Tanzania.
Through all of her work and activities, Dr. Poole was known by her colleagues and classmates for her selflessness.
"Her goal was to help as many people as she could first and give her all second," said Dr. Andrea Morgan, Recruitment Coordinator for SOD, "yet she still accomplished all she could academically."
As President, Dr. Poole worked diligently to keep her classmates organized and informed by sending out weekly emails and personally addressing their individual needs.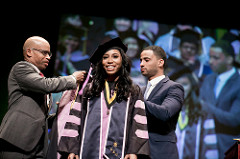 It was a role that she grew into after she initially got involved as a first year student and discovered that she enjoyed assisting others.
"She was on top of everything," said Ivory Ward '16, classmate and friend, "if we asked her something, she would get us answer in five minutes. Nobody would've known she was a Summa Cum Laude candidate because of how laid back and easy to talk to she was."
Passion and Ability for Dentistry
As a student, Dr. Chun had a reputation for having both innate talents and for being a hard worker.
"Dr. Chun has been a pleasure to work with in the clinic," said Dr. Lisa D'Afrronte, Clinical Assistant Professor at SOD, "from the start, she was an exceptional practitioner. She has a natural artistic ability that is difficult to teach. She has a quiet confidence, but yet is still incredibly humble and appreciative of all that she is learning."
Dr. Chun's academic dedication and abilities as a practitioner earned her co-honors for the Diamond Scholar Recognition Award, given to students who are trained in advanced concepts and techniques, including new digital technologies in digital dentistry and dental materials, patient and practice management, preparing complex treatment plans, and performing a wide range of advanced clinical procedures.
This recognition is a fitting honor for Dr. Chun, who was initially attracted to SOD due to the school's emphasis on technology. Her experience during the visitation process helped finalize her decision to attend:
"I felt the most comfortable and welcomed by the students and faculty at Maryland during my interview process and easily decided to go there."
Dr. Chun's comfort with SOD is reflected in the strong relationships she developed with colleagues and faculty, who are quick to highlight both her natural abilities and warm personality.
"It's been a pleasure working with someone as talented, hardworking, passionate, honest, and kind as Dr. Chun," said Dr. Aleah Cho '15, friend, "she always puts her patients first, and her patients are lucky to have her as their dentist."
Progress toward Diversity
For University of Maryland staff members, the accomplishments of Dr. Poole and Dr. Chun represent an affirmation of the institution's commitment to enrolling and assisting more underrepresented minorities to build diversity in both the classroom and workforce.
"We are way more diverse than we've ever been, and it's nice to have a front row seat," said Dr. Morgan, who has been involved in student recruitment for over 20 years. "Our classes look like the area we serve; it's a representation of the entire Maryland-DC region."
Almost 20 percent of SOD's students are from under-represented minority groups, substantially more than the national average for entering dental classes.
Learn more about how to support the next generation of UMSOD students.