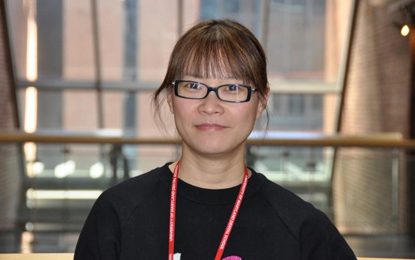 Sometimes it takes new technology and insight to make the greatest difference.
Kuei-Ling Hsu, DDS, a pediatric dentist and clinical assistant professor with the University of Maryland School of Dentistry (UMSOD), is the recipient of a $39,000, one-year grant awarded by Colgate to help study the molecular mechanisms of advanced tooth decay in socially disadvantaged youth.
Her interest was prompted by clinical experience and personal observation.
"Early childhood caries (ECC) is a severe and aggressive form of dental caries in children younger than six years of age. In addition to its potential fatal outcome if left untreated, the average cost for full mouth rehabilitation is around $20,000," says Hsu, a Chung Shan Medical University graduate who finished the specialty training and earned her master's at the University of Alabama at Birmingham and joined UMSOD in 2012.
Approximately 23% of children from 2-5 years of age had dental caries in their primary teeth according to the report from the National Health and Nutrition Examination Survey 2011–2012 (NHANES, a survey conducted under the auspices of the Centers for Disease Control and Prevention). Although ECC may affect children in all ethnicity groups, this NHANES report also describes that the prevalence varies between different ethnicity groups and socioeconomic levels. For example, untreated caries in primary teeth among children aged 2–8 was twice as high for Hispanic and non-Hispanic black children compared with non-Hispanic white children. Similarly, a 50% higher overall caries experience in primary teeth was also found. Some of the social factors that have been identified to contribute to this disparity are lifestyle behaviors such as poor diet choices. Other economic factors related to poor oral health include a reduced access to dental care due to an individual's ability to navigate to the dental facility and maintain dental insurance.
Localized and surface-attached microbial populations, termed biofilms, are key factors contributing to tooth decay development. Although several cariogenic bacteria have been identified, little is known concerning the details of the in vivo patterns of gene expression and the metabolic pathways utilized by oral bacteria and the relationships to dietary intake. These gaps in understanding are particularly true among the socially disadvantaged ethnicity groups within biofilm-embedded bacteria at the affected site before and during active cases of dental caries.
Dr. Hsu will isolate total DNA, RNA, and metabolites from clinical plaque samples at caries-active sites and non-caries sites within the same patient from African American children ranging in age from 1-5 years old. These children will be recruited from the Baltimore area based upon their high risk for caries development and level of socioeconomic disadvantage. Bacterial samples will be analyzed by advanced genomic, transcriptomic, and metabolomic analyses to identify the microbial species and the gene expression and metabolic pathway fingerprints for caries active sites. Hsu describes, "By taking this approach, we will identify those microbes and the processes by which ECC develops in the high-risk population and hope to identify novel acidogenic bacteria and potential metabolites significant to caries development."
"Dr. Hsu has used modern 'omics technologies to analyze the gene expression, protein production, and metabolic profiles of microbiota in dental biofilm in children with ECC," notes Mark Shirtliff, PhD, a professor in UMSOD's Department of Microbial Pathogenesis. "Her research is identifying pathogens and pathogenic mechanisms of microbial populations that have not been previously recognized to form caries in these patients. Dr. Hsu's experience in pediatric dentistry and her ability and dedication to bridge the worlds of clinical practice and basic science research is unique and invaluable at our dental school." Shirtliff continues "Although Dr. Hsu's expertise in basic science and patient care have made this research possible, her personal drive, ability to think out of the box, and an incredibly collaborative spirit equally contribute. I feel she represents the future of dentistry and dental research at the University of Maryland, School of Dentistry where the gaps between the lab bench and the dental chair can finally be bridged."