In 2007, Hanping Feng, PhD, then a research assistant professor at Tufts University Cummings School of Veterinary Medicine, decided to transition from basic research to translational research. "I wanted to do something that had a direct impact on human health," he says.
A decade later, he hasn't changed his mind. Now a professor in the Department of Microbial Pathogenesis at the University of Maryland School of Dentistry (UMSOD), he is a co-founder of Fzata, Inc., an antibody technology startup company, which in June was named "Best Life Sciences Company" at the Maryland Incubator Company of the Year awards ceremony. Now in its 16th year, the honor is presented annually by a committee of regional leaders and early-stage investors in recognition of promising fledgling technology companies in Maryland.
Feng's research is focused on the development of novel diagnostics, vaccines, and antibody-based immunotherapies for Clostridium difficile infection (CDI). More than 29,000 deaths in the United States are caused annually by antibiotic-resistant C. difficile; globally the infection is considered an urgent public health threat.
"It's a huge problem particularly in westernized countries," says Feng. "It develops frequently in hospitals where antibiotics are administered. Patients expose spores and then develop an infection. The problem is that currently there's no prevention nor good treatment strategy."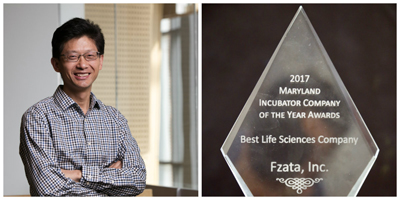 Feng's team has developed a highly innovative and multi-specific antitoxin antibody that has been shown to be effective in neutralizing both clostridial toxins and blocking the disease. Based on this research, Feng and FZata team is developing two candidate drug products: an intravenous, fully humanized, tetra-specific, antibody product (FZ001) designed to treat ongoing infection and to prevent recurrence, and an oral, probiotic, yeast product (FZ002) that secretes the antitoxin at the site of infection.
Both drug candidates have been evaluated in animal models of human infection and reveal superior efficacy against the infection than competitors.
In 2015, Feng and co-founder Zhiyong Yang, PhD, a former research scientist, formed FZata to fast track drug candidates by creating a viable pathway toward clinical trials, and ultimately commercial production. "There's a big gap between University bench work and clinical study for biologics," Feng says. "The process is expensive and the large pharmaceutical companies don't want to invest at an early stage because it's risky."
The early success of Fzata gives Feng hope that his model can be successful. "We've been able to get support because it's innovative, and it's centered on a major public health issue."
Since 2011, when he came to UMSOD from Tufts University, Feng's research has been supported by 14 grants or contracts totaling $15 million. Most recently, FZata received a $5.6 million National Institutes of Health grant to enable development of lead therapeutics against CDI.