When University of Maryland School of Dentistry (UMSOD) student Jesse Goldman treated his first-ever dental patient, he unquestionably drew upon everything he had learned in the classroom.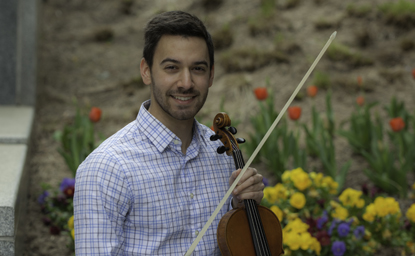 But he also relied upon his ability to put nervous energy to good use. An experienced violinist, the Andover, Mass., native had plenty of practice taking deep breaths, focusing on the job at hand, and transforming nerves into a remarkable performance.
While treating his patient, he recalls, "I was able to exude confidence. It helped me to focus, and it helped my patient."
Goldman, who graduated in May and performed on the violin at the Honors Convocation, began playing the viola at age 5 because he wanted to keep up with his big brother, who took violin lessons. Besides, he says, "I really liked the bow—it looked like a sword."
After a year of viola lessons, Goldman switched to violin and never looked back. As a high school student, he took private lessons and played in two orchestras and several quartets. "I always wanted to play, but in terms of being a professional, I knew that that was a very difficult career. But I knew I always wanted music to be part of my life."While an undergraduate at Colby College, Goldman continued studying music while also considering medical or dental school. During his junior year abroad, for example, he studied human health and disease at the Danish Institute for Study Abroad and took violin lessons and ensemble training at the Royal Danish Academy of Music. In 2012, he graduated magna cum laude with a bachelor's degree in music and a minor in chemistry.
In the end, he chose dentistry in part because both his father and his big brother are dentists. "My dad is a dentist, and he always talked passionately about it as a career," says Goldman. "I was really drawn to dentistry by the idea of working with patients and the hands-on aspects of it."
He sees at least one parallel between violin and dentistry: Mastering either demands dedication and attention to detail. "If you are a fraction of a millimeter off in dentistry or violin—if you aren't seating a crown perfectly or you are playing a note out of tune—then the whole thing is off."
While at UMSOD, when he was not studying, Goldman could be found playing the violin with his class band, The Distal Groove; performing an adaptation of video game music with the Baltimore Gamer Symphony Orchestra; or fine-tuning his interpretation of Bach's "Chaconne," which he performed at the Honors Convocation.
Next up? He is off to Phoenix, Ariz., for an advanced education in general dentistry at the Arizona School of Dentistry & Oral Health at A.T. Still University—violin in hand, of course.