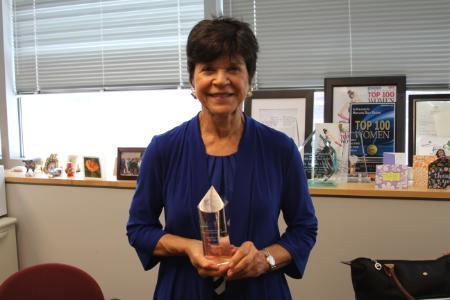 Jacquelyn Fried, RDH, BA, MS has spent her entire career advocating for the increased role of the dental hygienist in public and systemic health promotion and disease prevention. She was formally recognized for her work at the American Dental Hygienist Association's (ADHA) June 2016 annual session In Pittsburgh, winning the Irene Newman award for advancing the art and science of the profession of dental hygiene.
For Fried, this award is a culmination of many years of groundbreaking research and teaching in the field. Since 1978, she has served the UMSOD Dental Hygiene program in nearly all administrative capacities and has helped to validate dental hygiene's influence through numerous published articles and presentations. She currently serves on several editorial review boards including the Journal of Dental Hygiene, the American Journal of Health Behavior and Dimensions of Dental Hygiene. She has given innumerable oral presentations on topics from scientific writing and tobacco and HPV prevention to interprofessional collaboration.
"My interests were broad in scope from the day I started," said Fried, "I majored in political science as an undergrad and that has informed how I approach healthcare research and the dynamics of health care."
Among her many contributions, Fried has earned the most recognition for her research conceptualizing the role of the dental hygienist in tobacco prevention and cessation with the hope of reducing head and neck cancers and associated systemic conditions. Due to her expertise on this subject, Fried has served as Chair of the Tobacco-Free Special Interest Group for the American Dental Education Association and was appointed to the ADHA's Advanced Dental Hygiene Practitioner and Tobacco Task Forces.
Fried has also applied similar principles to HPV and its relationship to head and neck cancers. For both HPV and tobacco-related ailments, assessment of patient behavior and subsequent education are critical. These methods are a perfect fit for dental hygienists, according to Fried:
"Dental hygienists are most involved with patient education, so it's natural that the task of preventive therapy would mesh so beautifully with their calling," she said, "The population at large is now starting to appreciate prevention and it has catapulted our profession into prominence."
The Irene Newman award is formal recognition of Fried's success in laying the groundwork for these advancements, but it's not the first award she's received. In 1997, she was honored with the ADHA Warner Lambert Award for Excellence in Dental Hygiene, and in 2015, she made the Maryland Daily Record's "Top 100 Women list."
These awards are a fitting tribute to her legacy, according to Marion Manski, RDH, BS, MS, Director of Dental Hygiene at USMOD.
"Jackie exemplifies the qualities of our profession, and her tireless efforts as a most valued faculty member regarding her countless initiatives in the profession of dental hygiene make her a leader in the field."
Currently, Fried is co-authoring and editing a report on the future of oral health professionals' education. Her focus is on what dental hygiene and other allied health professions will look like in 2040. As she has done in the past, she hopes to further conceptualize the role of dental hygienists.
"As more and more legislators begin to view oral disease as a major public health problem, the placement of dental hygienists in public health and primary care settings will continue to grow," she said.