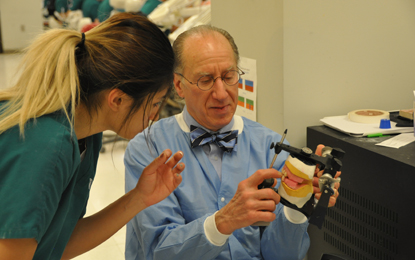 Ivan Fried, DDS '77, has been teaching at the University of Maryland School of Dentistry for more than 35 years. Over time, he has found that while materials have changed, the fundamental concepts of teaching dentistry haven't.

"There are new and improved materials, but one manufacturer's material is not significantly different from another manufacturer's material. The biggest change has been the introduction of digital technology; ie. CBCT, intraoral scanners, CAD-CAM and 3-D printing," he says.

Fried, who plans to retire at the end of the Spring 2019 semester, started teaching part-time in 1982 after earning his certificate in Prosthodontics at UMSOD. In his part-time role, he helped students perform restorations at the clinic two times a week while starting and building his private practice. In 2010, he transitioned to full-time teaching, taking over as director of the Complete Dentures course in addition to his clinical duties and treating patients in Faculty Practice.

As a Prosthodontist, Fried prides himself on passing down the techniques of restorative dentistry. "I have a narrow focus. I stick to what I know best," he says. In his teaching, he emphasizes building hand-eye coordination skills that, due to computers, emails, and smart phones, current students have fewer opportunities to hone.
"Holding instruments is a new skill they have to develop," he says. "With digital technologies, the artistry of dentistry is not the same. I enjoy doing lab work and one of the reasons I entered the field of prosthodontics was the hands-on nature of this specialty which fulfilled my artistic needs." Fried encourages his students by urging them be unafraid of learning new skills and techniques. What matters, he says, is that they can show him they are taking the time and making the effort to learn.
"When students encounter a procedure and say 'I've never done this before,' I'm there to teach it. In the end, I don't expect them to be able to accomplish the procedure at my level, but I expect them to be able to explain to me what they're trying to do," he says.
He also derives pleasure from teaching tried-and-true techniques that complement that knowledge they've acquired from the fixed prosthodontic courses, such as creating acrylic crowns.
"If a patient needs a temporary crown, and they don't have a previous cast or matrix, you can make it out of an acyrillic block, which is an important skill but not always needed," he says.
"When I teach students this technique, they are amazed and appreciative at learning something they don't normally see."