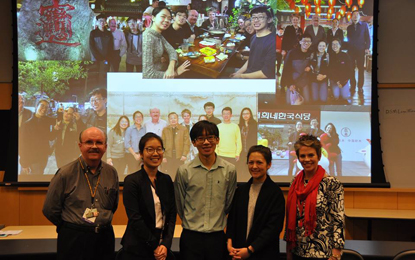 Six dental students from Xi'an Jiaotong University College of Stomatology (XJTU COS) in Xi'an, China, are scheduled to arrive Jan. 28 at the University of Maryland School of Dentistry (UMSOD). Their three-week visit represents the second time XJTU COS has sent a group of students to Baltimore and is part of a burgeoning student exchange program between the two
Three UMSOD students spent two weeks at XJTU COS last October observing and exchanging ideas. The experience offered them a firsthand view of the school's clinics, which are part of the Xi'an Jiaotong University Hospital. Many of XJTU COS's dental clinics operate seven days a week, as well as offer automated patient check-in systems and blood screenings for diabetes, hepatitis, sexually transmitted diseases and other conditions before dental visits.
"I was amazed by how efficiently care is delivered even in specialty medical fields," says Hannah Sutherland, a fourth-year UMSOD student, noting that in the United States, it can take much longer to make an appointment with a specialist.
"[The XJTU COS] students impressed me with the fact that each specialist sees approximately 60 patients before lunch time," she added.
While at XJTU COS, the UMSOD students toured clinics, participated in discussions with faculty members and students, and visited the Air Force Dental Museum.
A XJTU COS entourage met the UMSOD contingency when it debarked at the Xi'an Airport at close to midnight. During the following weeks, the Chinese hosts held daily lunches and dinners for the Americans. Additionally, flyers with photos of UMSOD's Dean Mark A. Reynolds, DDS '86, PhD, and Scott Swank, DDS '89, MS, FACD, clinical assistant professor and curator of the National Museum of Dentistry, were posted outside the college's simulation labs to welcome the visitors.
In China, dental students typically undertake a 5-year dentistry program that begins immediately after high school and is followed by a masters and a doctoral program. After graduating, a high percentage of new dentists opt to pursue a career in medical academics.
"During the program, our students and faculty learned about oral health care delivery in China. We were also exposed to some of the cultural expectations and customs in Xi'an. The externship is the start of many experiences for students to enrich their learning through a global lens," says Kate Noonan, senior director, special projects for the dean.