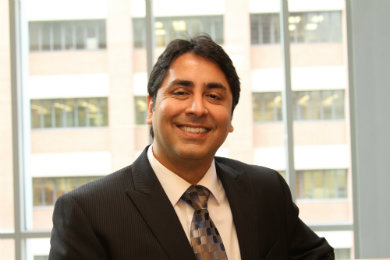 Baltimore, Md., January 29, 2017 – February is National Children's Dental Health Month, and although strides have been made in the treatment of tooth decay in children, more research into pediatric treatment practices is needed, according to Vineet Dhar, director of the Division of Pediatric Dentistry at the University of Maryland School of Dentistry and state president of the Maryland Academy of Pediatric Dentistry.
Dhar's research interests are primarily in the areas of preventive dentistry, fissure sealants, dental trauma, pulp therapies, and soft tissue lasers. Last year, he was honored by the American Association of Pediatric Dentistry as the co-author of the most prestigious article published in the journal, Pediatric Dentistry, in 2015. Here he discusses changes in pediatric dentistry and how parents can help their children practice good oral health behaviors.
How has oral health among children in the United States changed in recent years?
The good news is that tooth decay among children is on the decline in the United States. According to the 2011-12, National Health and Nutrition Examination Survey (the latest data available), 22.7 percent of children ranging in age from two to five years had one or more primary teeth affected by dental caries—or cavities. That's about a six percent decrease since the last survey was completed in 2004.
What's changed in the last decade or so in the way dentists treat tooth decay in children?
How we understand tooth decay in young children has changed. Our approach is no longer "drill and fill." It has moved from treatment to long-term disease management. We focus on prevention (brushing at home and regular office visits), early and minimal intervention, and implementing follow-up protocols.
What can parents do to encourage good oral health habits in their children?
Parents truly are the first teachers for children. Simple things like making right choices and being aware of oral health will make a big difference. Children model their parents, so it is important that parents themselves follow good oral hygiene practices and eat healthy foods. It is helpful to make brushing and flossing fun at home and even assist younger children to do a good job. Routine visits to your dentist, in addition to preventing disease, helps children develop a positive outlook on dental care.
When should young children begin visiting a dentist and how often should they go?
The American Academy of Pediatric Dentistry recommends that a dental home be established for a child by age one. The key here is to focus on prevention. Tooth decay, though very common, is largely a preventable disease. Parents are encouraged to take their children to pediatric dentists or their family dentists every six months. There may be times when the dentist may ask to see children sooner—especially if they are at a higher risk for developing tooth decay.
If you could ensure that children would do one thing a day to care for their teeth, what would it be?
Brush twice a day with a fluoridated toothpaste—it is most effective in preventing decay.
You've conducted research that shows there isn't enough evidence to support many widely used treatments for tooth decay in children. Could you explain this?
The best evidence we have supports brushing regularly with a fluoridated tooth paste. However, the market is flooded with several home-care and professional-use products that claim to be very effective in preventing tooth decay. Please talk to your dentist to understand whether any of these will be helpful for your child. Your dentist will assess if your child is at risk for developing tooth decay and recommend a prevention plan based on that. One such example is a sweetener called xylitol, which is added in chewing gum, mouthwash, toothpaste, chewable vitamins etc.; however, in low concentrations its effectiveness in preventing tooth decay is questionable.
It is also important for parents to understand that filling cavities is not enough. Many of the children will develop new tooth decay within 6 months to 2 years after the treatment if the recommended home care and routine visits are not followed.
After reading your answer, what should parents be asking their children's dentists about treatment?
Parents should check with their dentists if the child is at high- or low-risk for developing tooth decay and what preventive plan would he or she recommend for their child.
If you were the U.S. Surgeon General, what would your first step be to improve pediatric oral health?
My first step would be to find ways to improve access to and utilization of oral health care for children.
#####
The University of Maryland School of Dentistry is the direct descendant of the world's first dental college, the Baltimore College of Dental Surgery, which was chartered in 1840. Located on the campus of the University of Maryland, Baltimore, it is ranked eighth by the NIH among U.S. dental schools in research funding and seeks to foster the next generation of leading oral health care professionals while shaping the future of dental health research, education, and care. Comprising 12 divisions, UMSOD conducts pioneering research and is committed to local and global community service; it provides services to nearly 27,000 patients annually. www.dental.umaryland.edu