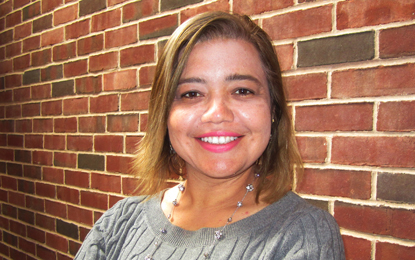 A new paper co-authored by University of Maryland School of Dentistry (UMSOD) faculty seeks to raise awareness of an oral health condition that is difficult to diagnose and is increasingly appearing in young adult populations: dental erosion.

The paper, titled "Dental Erosion: Current Concepts and Best Strategies to Prevent Dental Erosion," was published on the cover of the journal Compendium of Continuing Education in Dentistry in February 2019. The paper synthesizes all current research on dental erosion, which is a multifactorial condition associated with chemical, biological, and behavioral factors in which a non-bacterial chemical process leads to an irreversible loss of enamel. Symptoms may include changes in tooth appearance, tooth wear, and painful sensitivity.

Dental erosion is a pertinent issue because it is primarily caused by unhealthy dietary choices such as consumption of acidic drinks (such as carbohydrate soda, juices, alcohol) and foods, which also drive global health epidemic health problems such as obesity and diabetes. It also is increasingly prevalent in younger populations: 30 percent of adults aged 18-35 have at least one tooth with erosive tooth loss, according to epidemiologic studies.

"We are seeing it more and more within populations that have a high intake of acidic foods and drinks in the diet, and a high percentage of the population with prolonged reflux of gastric juice into the mouth ," says Mary Anne Melo, DDS, MSc, PhD, lead author of the paper and associate professor and Director of Operative Dentistry at UMSOD.

Melo has studied erosion in both Brazil and the United States and was motivated to produce the article after seeing a high prevalence of cases in both countries.

Howard Strassler, DMD professor in the Division of Operative Dentistry at UMSOD, was a co-author, and recent UMSOD alum Jennifer Park, DDS '18, contributed research. "We're very happy with the outcome because Compendium has a big clinician audience. It's not a traditional research journal. It has the greatest reach to the dental community who will use this resource," says Melo.

Reaching a wide clinical audience was important because dental erosion's diagnosis presents unique challenges for practitioners, according to Melo. "Erosion doesn't work alone, it's always a factor combined with abrasion or attrition," she says. In particular, usage of high-abrasion toothpaste or improper brushing techniques creates further erosion and abrasion in the patient, with increased enamel loss.
Erosion also doesn't show any obvious visual signs until the advanced stages, where the tooth appears increasingly dull/ yellow or restorations appear higher than the level of the teeth. If clinicians don't know how to diagnose and judge the progression of the condition, they run the risk of applying restorative treatment that will be ineffective. "Due to its irreversible nature, recognizing the early signs is important to develop appropriate preventive strategies," says Melo.

In most cases, erosion must be diagnosed early and treating it requires education about lifestyle and dietary changes. In particular, abstinence from acidic foods and drinks, in conjunction with using special toothbrushes and fluoride toothpastes, would be the primary treatment recommendation based on existing evidence. Another preventive strategy involves the consumption of calcium and phosphate mineral-rich products, such as milk, cheese, liver, broccoli, and yogurt.

In addition to dietary sources, erosion can also be caused by acid reflux and other gastroesophagic diseases, and is common in patients with eating disorders, drug addiction and alcoholism. These conditions require a multidisciplinary response to address the condition, and as part of her continuing research, Melo will be collaborating with the Gastroenterology Medical Division at Walter Cantido University Hospital in Brazil to examine the correlation of dental erosion with increasing severity of gastro-esophageal reflux disorder. Two gastroenterologists and two dentists will comprise the research team.
"It's a pool of high risk patients that need to be addressed concerning prevention of dental erosion," says Melo, "many who are seeking medical care for Gastro-oesophageal conditions already have signs of erosive lesions."