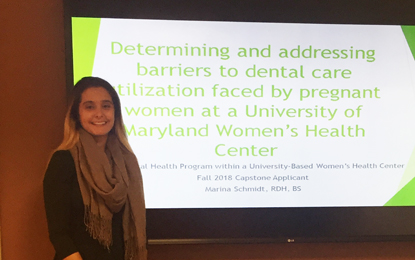 Last December, Marina Schmidt became the first student to graduate from the University of Maryland School of Dentistry (UMSOD)'s accelerated Dental Hygiene Baccalaureate (BSDH) to Master's of Public Health (MPH) program.

Made possible through a collaboration with the University of Maryland School of Medicine (UMSOM)'s Department of Epidemiology and Public Health, participating students enrolled in the Bachelor of Science degree program in dental hygiene may take two graduate-level public health courses during their senior year. Because they pay undergraduate tuition rates for the graduate courses, they are able to save both time and money toward earning their MPH degree.

Schmidt, who received her BSDH degree in May of 2017, was motivated to enter the program because she wanted to expand her scope of work beyond clinical hygiene. "I was interested in both academics and also working with children and creating programs that provide fluoride varnish, sealants, and oral health education in schools," she says.

While earning her MPH degree, Schmidt got first-hand experience with program management, coordinating patient logistics for a Prenatal Oral Health Program implemented through a collaboration between the UMSOM and UMSOD.

"Marina demonstrated the specialized skill set she obtained through pursuing the BSDH/MPH degree when working with me on the prenatal oral health program at the Women's Health Center through the UMSOM," says Lisa Bress, RDH, MS, director of recruitment and advising in the Division of Dental Hygiene, "She successfully combined public health concepts such as determining barriers to seeking and accessing dental care services for this underserved population with oral health concepts to address those barriers by developing protocols for RN's at the women's health center."

Schmidt views the BSDH-to-MPH program as a gateway to expanding the role of the hygienist in managing oral care.

"When individuals think of a dental hygienist, they usually only associate the hygienist with their bi-annual 'cleaning' at a private practice,," she says, "Public health puts hygienists in several different roles promoting and managing oral care, whether it's in schools, hospitals, or nursing homes."

Schmidt continues, "Awareness of the importance of oral health is increasing in these environments. Studies have even demonstrated the association between improving oral hygiene and reducing the risk of ventilator-associated pneumonia for hospitalized patients. These issues show the importance of having hygienist-managed oral health programs in environments outside of a private practice setting."

Schmidt initially became interested in a dental hygiene career when she got her braces. "I didn't realize how much my smile impacted my personality and made me feel more confident. I wanted to help others achieve optimal oral and systemic health, while helping patients maintain a beautiful confident smile."
For her post-graduation plans, Schmidt will continue to work in the Dean's Faculty at UMSOD and look to manage a project similar to the Prenatal Oral Health Program.