An effective, non-intensive pulp therapy treatment for tooth decay in children may be underutilized, according to a September 2017 study by the American Academy of Pediatric Dentistry (AAPD).
Titled "Use of Vital Pulp Therapies in Primary Teeth with Deep Caries Lesions," the study indicates that indirect pulp treatment (IPT), a one-appointment procedure in which dentin caries close to pulp are left behind and the cavity sealed with restorative material, has a 94.4 percent success rate.
IPT is specifically applied to avoid pulp exposure during the removal of caries lesions. The process involves careful radiographic and clinical assessment of the teeth to ensure that they are healthy or reversibly inflamed.
"IPT is a conservative, biological approach that shows a great deal of promise," says Vineet Dhar, study co-author and clinical associate professor and interim chair of the Department of Orthodontics and Pediatric Dentistry at the University of Maryland School of Dentistry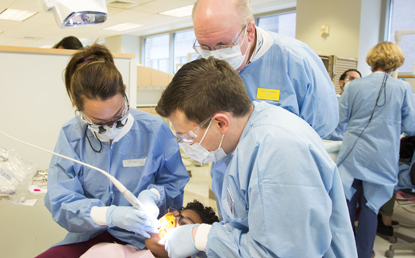 (UMSOD).
While IPT offers a research-based approach to remove caries lesions while retaining pulp vitality, third-party reimbursement issues may be preventing widespread application of this technique, according to the study. IPT is often bundled as part of a restoration procedure and therefore under-reimbursed or not reimbursed at all. By contrast, pulpotomies—the most widely utilized pulp therapy procedures—are reimbursed by private and federally-funded insurance companies.
Pulpotomies are performed when the excavation of carious dentin in primary teeth produces a pulp exposure. In this technique, the entire coronal pulp is removed.
Dhar states that while clinicians take into consideration individual patient preferences, as well as their own clinical expertise when selecting pulp therapy treatments, this reimbursement discrepancy may unintentionally prioritize pulpotomies over the more conservative approach.
"Providing reimbursement of IPT will better allow clinicians to make choices based on efficacy and effectiveness alone," Dhar says.