‌As a student at the University of Maryland School of Dentistry, Derek Blank, DDS '10, saw firsthand the barriers to health care faced daily by the underserved.
In 2007, he received an Albert Schweitzer Fellowship, a program which creates and carries out sustainable community service projects addressing chronic health issues as well as the underlying causes of health inequality. As part of the program, they visited Baltimore City community centers twice a week and served bagged lunches, passed out dental hygiene kits, and in particularly cold months, provided blankets.
The fellowship allowed Blank to learn about the very real problems facing patients who were under- or uninsured. "Staying inside the dental school, you can see the needs of the people coming in," he says. "Being able to go outside gives you a short snippet of the reality of the challenges and hurtles people face even getting to an appointment on time."
He has not forgotten what he learned. In 2017, Blank opened a pediatric practice in Bethesda, Md. Called DC Pediatric Smiles, Blank designed the practice to provide a welcoming environment for children of all backgrounds. To ensure that parents feel welcome, as well, Blank accepts Maryland Healthy Smiles, the government-assisted Medicaid insurance program for children.
"We see patients from all around the beltway. It's a very diverse cultural and economic population, which I love," he says.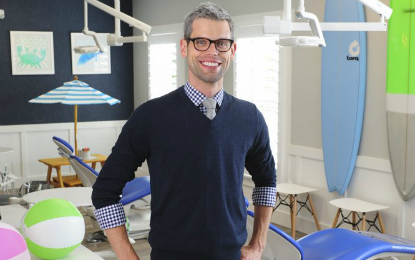 A native of Wadsworth, Ohio, Blank knew early on that he wanted to work with children. He chose the dentistry instead of pediatric surgery because dentistry offered a greater chance of work/life balance (Blank is currently married with three young children, Anderson, Brinkley, and Beckett).
After earning a degree in 2006 from Xavier University in Cincinnati, he chose to attend UMSOD after being impressed by its close-knit relationships between students, faculty, and staff.
"The atmosphere was very warm and welcoming," he says.
After completing a general practice residency at East Carolina University's Brody School of Medicine, Blank returned to UMSOD for a postgraduate fellowship in pediatric dentistry. While enrolled in the program, Blank showed particular talent for connecting to children and parents, according to Vineet Dhar, BDS, PhD, interim chair of the Department of Orthodontics and Pediatric Dentistry.
"He knew his stuff in terms of pediatric techniques, but what stood out was his warmth and positive attitude," Dhar says.
These skills come in handy at DC Pediatric Smiles. The practice is decorated like a surf shack, complete with picnic tables with umbrellas and stuffed ocean animals, so that kids "can come in and not feel like they're at the dentist's," he says.
Blank puts young patients at ease by showing that he is interested in them as individuals.
"I enjoy discussing their interests, whether sports, or music, or art—instead of what tooth is hurting them. Often, our patients open up and become more receptive to tips about brushing and diet recommendations," he says.
Blank calls this his "laughs - grow - smiles" philosophy. The three stages of his approach are engaging parent and child, introducing diet and oral habits, and charting the child's progress. Throughout it all, prizes are offered.
"We're not above bribery at the pediatric dental office," jokes Blank.
Over time, his philosophy has proven successful with all children—no matter their backgrounds. "Some of our patients have just moved to Maryland from parts of Africa, Eastern Europe, and Asia. We're the first taste of pediatric dentistry they've had in the U.S."
And that is, after all, why Blank founded his practice.