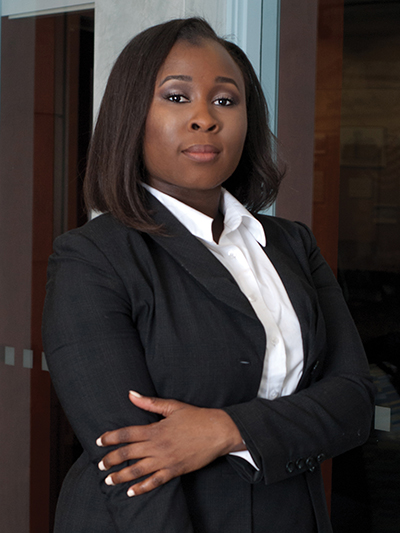 President Perman is fond of telling new UMB graduates to "go out and change the world." Tiffany Otto hasn't graduated yet, but she already is helping to change things for the better.
A fourth-year student at the University of Maryland School of Dentistry (UMSOD), Otto has facilitated opportunities for underrepresented minorities to have meaningful discussions about the strain placed on individuals and communities by local and national civic unrest. These open forums have allowed her colleagues to speak freely and safely.
Otto also has served in a number of leadership positions including as vice president at Healthy Smiles for Baltimore and the Baltimore Minority Council of Professional and Graduate Students and as president of the Student National Dental Association. For this and much more, Otto received a diversity recognition award as Outstanding UMB Student at the University's Black History Month celebration on Feb. 1.
"I'm incredibly grateful, honored, and thankful that I attend a University that offers a Dr. Martin Luther King Jr. diversity recognition award," Otto says. "This shows UMB's commitment to Dr. King's principles and that makes me proud to be here. My hope is that this award will inspire students and staff to initiate conversations and spread love to their colleagues, friends, and community members who share different backgrounds."
Some of her most impressive work outside the classroom—Otto also maintains a rigorous dental school schedule that includes clinic work with patients several days a week—has been through the Student National Dental Association (SNDA), an organization that strives to uplift minority students.
In 2015-16, as a second year student, Otto was SNDA's community service chair and created service events for students both on and off campus. As a third-year student, she served as president of the chapter, and during her tenure, the SNDA won Chapter of the Year for the second consecutive year. Notable chapter activities included the Taste Bud Tour, during which cultural groups on campus were invited to share their cuisines; Generation NeXT, which provided opportunities for School of Dentistry students to mentor high school students at the Vivien Thomas Medical Arts Academy; and an Oral Cancer Walk, which raised $19,445.
None of the SNDA events would have been possible without the help of her executive board and chapter members who share the same vision of service and cultural competence, Otto says.
"(Otto) has always and will always be someone who champions a universal inclusiveness and diversity for all," says Teebok Choe, president of UMSOD's Class of 2018. "I wholeheartedly believe that she has left a lasting impression on not only the School of Dentistry but the campus and all the students within, and among visitors who were lucky enough to come in contact with her."
After graduating from UMSOD, Otto plans to enter a dental residency program in New York while continuing to engage in community service projects. She credits her parents for launching her on the public service path.
"My character has been shaped by my childhood experiences in a racially diverse small town called South Orange in New Jersey, coupled by a 'village' of family and friends who share similar core values," Otto says.
"My parents taught me very early to treat others well, to do good, and to be the change that I wish to see—and it has truly gone a long way. It took a village to get me here, and I owe it to that village to enter spaces at UMB with the same love, energy, and tenacity that they taught me."