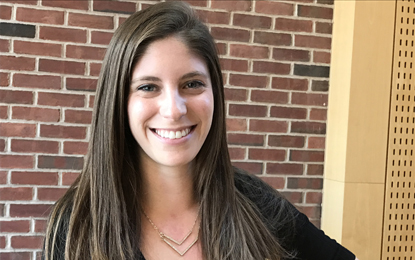 Lara M. Seidman's entry into the research writing world happened by pure chance. In the spring of 2016, Seidman, a Class of 2018 DDS student at the University of Maryland School of Dentistry (UMSOD), was performing oral cancer research in the laboratory of Abraham Schneider, DDS, PhD, associate professor in the Department of Oncology and Diagnostic Sciences. Bashirelahi needed a volunteer to assist him in making a PowerPoint on the effects of coffee on oral health for one of his classes. Seidman was the only one who offered to help.
"He loved the PowerPoint, so he asked me to write a paper on the subject," said Seidman.
This unassuming beginning led to the publication of Seidman's first article, "What Every Dentist Should Know About Coffee," which appeared on the cover of the July/August 2016 issue of General Dentistry. Seidman co-wrote the article with UMSOD faculty members Ira T. Bloom, DDS '72, clinical assistant professor and assistant director in the Department of Advanced General Dentistry; and Nasir Bashirelahi, PhD, Pharm.D., professor in the Department of Oncology and Diagnostic Sciences.
Six months later, Seidman published a second article in the January/February 2017 issue of General Dentistry, this one titled, "What Every Dentist Should Know About Opioids." Seidman co-wrote it with Bashirelahi and Patricia A. Tordik, DMD, clinical professor and the director of Postgraduate Endodontics.
In view of her level of production over such a short period of time, Seidman's faculty mentors have pegged her as a rising star. "Lara is amazing," said Bashirelahi, "she's on pace to have four articles published before she graduates."
"From the beginning it was obvious to me that she was a very mature, motivated student with clear career goals," said Schneider.
Seidman's 2017 General Dentistry article has resonance, given the increase in prescription opioid abuse. From 1991-2010, opioid prescriptions in the United States have increased from 76 million to 210 million, according to Centers for Disease Control and Prevention (CDC). From 1997 to 2007, there was a 300 percent increase in overdose deaths.
While researching the article, Seidman found that many dental patients who were prescribed opioids actually should have received endodontic therapy. "Dentists should realize that the rate of prescription has skyrocketed despite nothing happening to increase people's pain," she said, "dentists sometimes prescribe opioids when something else can be done to help the patient."
Seidman, who grew up in Hagerstown, Md., received her undergraduate education at the University of Maryland Baltimore County (UMBC), where she majored in biology and minored in art history. She wanted to pursue a career in healthcare, and dentistry, with its focus on hand-eye coordination and spatial reasoning, seemed a logical choice: "My background in art translated nicely to dentistry, there's a lot of overlap in the study of color and proportions," she said.
Seidman was drawn to UMSOD because she wanted to focus on building her clinical skills. "UMSOD produces a lot of great clinicians. There's a lot of time in the clinic, we have state-of-the-art equipment, and there's a strong collaborative environment."
In addition, Seidman was attracted by UMSOD's research department. As an undergraduate at UMBC, she had worked in Schneider's lab, and UMSOD provided the opportunity to continue her research. After her D1 year, she participated in the 2015 Summer Research Training Program, with Schneider serving as her mentor. She continued to conduct research with both Schneider and Bashirelahi into her D2 year.
"Whenever I wasn't in class, I was in the lab," she said.
After graduation, Seidman intends to enter into a post-graduate residency, and is interested in pursuing a career in either prosthodontics or cosmetic dentistry. "Lara will certainly excel as a dental practitioner," said Bloom, "she possesses the 'three H's'…the head, the heart, and the hands."